Newcastle United defender's cheeky response to Arsenal 'scandalous' penalty claims
Newcastle United stretched their unbeaten Premier League run to 13 matches following a goalless draw at Arsenal on Tuesday night.
It was a club record sixth consecutive clean sheet for Newcastle as they held the league leaders to stop them winning at home and scoring for the first time this season. The result keeps Newcastle third in the Premier League table with defender Dan Burn deeming the point 'huge'.
"Arsenal are really good and are a tough team to figure out. I think we did really well and weathered the storm for a bit and it shows how resilient we've been for probably the past year. When we're not playing at our best we're hard to beat.
"Bukayo Saka is a great player and he can go both ways. The wingers helped us a lot to double up on him. We got to grips with it as the game went on. We've got a good mix of young lads and experienced players in the team so we grew into the game. We're happy with the point.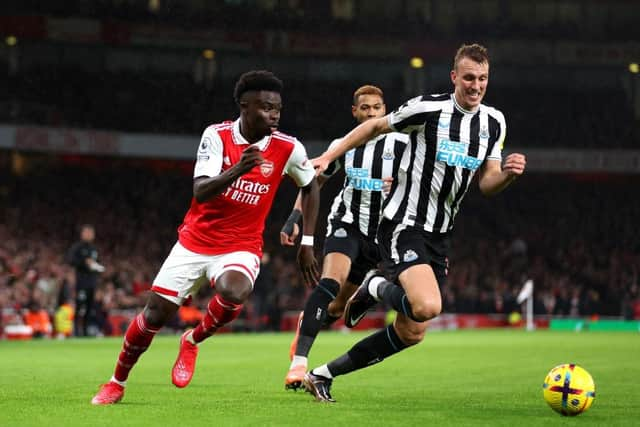 "We're believing in the philosophy. We're all working for each other and it was really important to get that clean sheet tonight.
"I think you've got to [frustrate them]. A lot of people expect you to let them win. There's a lot of ways to win a football game. We managed it well."
Arsenal were denied two penalties in the second half, much to the disappointment of Mikel Arteta.
"We had two scandalous penalties," said the Arsenal manager. "They are two penalties, simple. It's two scandalous penalties. I don't know [why VAR didn't give it]."
The first shout saw Burn pull down Gabriel inside the area and the second came in the 95th minute as the ball hit off Jacob Murphy inside the area but VAR did not intervene despite Arsenal's claims for handball.
But when asked about the late penalty scare, Burn confidently replied to Sky Sports: "I knew we were fine, VAR is fine isn't it!"
Arsenal remain top of the Premier League after 17 matches, eight points clear of Manchester City and nine points clear of Newcastle in second and third respectively.