Newcastle United fans given three-word message ahead of Leicester City quarter-final tie
Newcastle United fans have been told to do one thing for Tuesday night's Carabao Cup quarter-final against Leicester City at St James's Park (8pm kick-off).
The Wor Flags supporters group have urged Newcastle fans to bring their scarves to the first home match of 2023 at St James's Park – and it's a big one! It will be the first domestic quarter-final match St James's Park has hosted in front of a crowd since 2006, and Wor Flags want to ensure the atmosphere inside the stadium is 'bouncing'.
Bring your scarf to Newcastle v Leicester
With a sell-out crowd expected, Wor Flags have launched the '#BringYourScarf' campaign for the Leicester match.
In a message posted on social media, Wor Flags referenced the hope of Newcastle ending its 54-year trophy drought and plans to 'create a sea of black and white' with scarves twirling as the players make their way onto the pitch.
"Be part of something special. #BringYourScarf and most importantly; bring your voices. Howay the lads," the post read.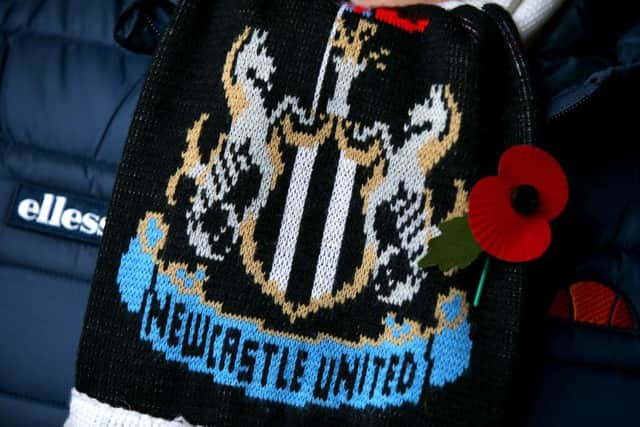 The impact of Wor Flags at St James's Park
Not dissimilar to Newcastle United, Wor Flags formed as the result of a merger between two separate groups – Gallowgate Flags and Wor Hyem 1892. Both groups were created to help improve the atmosphere at St James's Park and joined forces in 2017.
After a spell of difficult relations with the club and previous owner Mike Ashley, Wor Flags returned to St James's Park with a bang following the club's takeover last October. Since then, the pre-match flag displays have become a staple of the matchday experience at St James's and have gone from strength to strength.
A flag display has still been planned for the Leicester game but all fans have been encouraged to use their scarves to help add to the atmosphere.
A Wor Flags spokesperson told The Gazette: "It's not every day that you have the opportunity of a home quarter final. This competition represents our best chance at success for years and is a massive opportunity for the club.
"We thought we'd try and do something different so that come kick off, the place is bouncing. By encouraging fans to #BringYourScarf We're hoping to get as many people as possible involved by showing their support for our team visually but most importantly by being vocal and getting behind our team."
Another home tie for Newcastle
The Leicester match is Newcastle's third successive Carabao Cup tie at home to Premier League opposition. Eddie Howe's side knocked out Crystal Palace on penalties before edging past Bournemouth 1-0 in the last-16.
But the atmosphere in those previous matches has been deemed 'pretty flat' in comparison to Premier League games.
"The last couple of cup ties, the atmosphere has been pretty flat so we wanted to try something different and hopefully it will make a positive impact on the atmosphere," the spokesperson added.
"We've seen over the years the impact our support can have. As fans it is up to us to get behind Eddie and the lads and to make St James's as hostile a place as possible for Leicester.
"Since we've launched the #BringYourScarf campaign, we've had an incredibly enthusiastic response from fans on social media. We just hope that this transpires on matchday and we see everyone getting involved."