Newcastle United issue Bruno Guimaraes injury update
Eddie Howe's issued an update on injured Newcastle United midfielder Bruno Guimaraes.
The 25-year-old had his ankle strapped midway through the half, and tried to run the injury off, but he couldn't continue after the break.
Guimaraes left the stadium wearing a protective boot on his right foot, and with the help of crutches.
United head coach Howe said: "Bruno was very distressed. He was in a lot of pain. He twisted his ankle and felt he could run it off. In the end he needed to be withdrawn."
"He was (in distress), and he was after the game. He was worried about his ankle. It was a twist.
"He felt he could carry on until right at the end of the first half, when he signalled to come off. Never a good sign, from our perspective. We'll have to get it scanned and checked out, and we'll see what the damage is.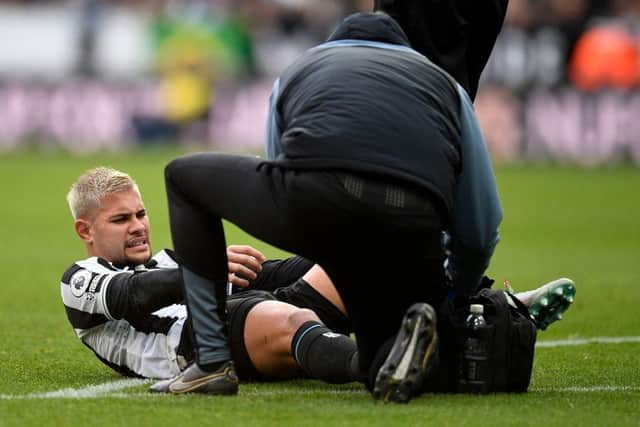 "We hope it's not long-term, but, at this moment in time, we don't know."
Asked if Guimaraes should have been taken off earlier, Howe said: "Yeah, probably, with hindsight, but the player wanted to stay on, and, as long as it's not a concussion, I always tend to go with the player, because the players know how difficult the Premier League is, and know their bodies better than I do.
"It's always a difficult one, right on half-time, to make a change. I like to try and do that in the calm of half-time, to make a proper decision. He played very well in the first half, despite the injury."
After the game, Guimaraes tweeted: "Very sad about today's injury, hopeful it's nothing serious and that I can do what I love most as soon as possible."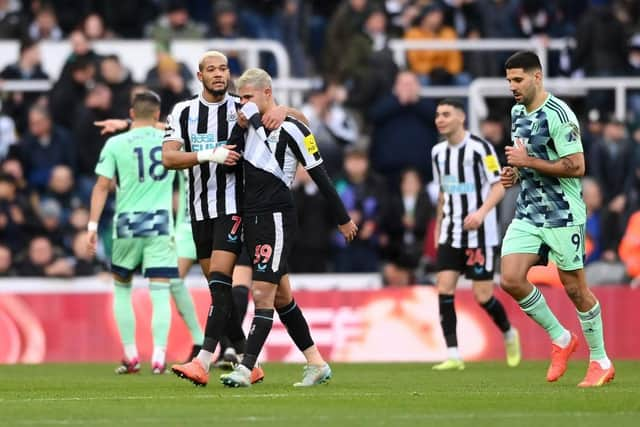 Substitute Alexander Isak claimed all three points with an 89th-minute header. It was fit-again Isak's first Premier League appearance since September.
The result saw the club move to within a point of second-placed Manchester City.