Newcastle United Q&A: System switch, Matt Ritchie & Dwight Gayle recalls and the Magpies January business under the microscope
One Premier League win - a smash and grab, last ditch victory over Chelsea - is all Newcastle United have to show for their last nine top flight games.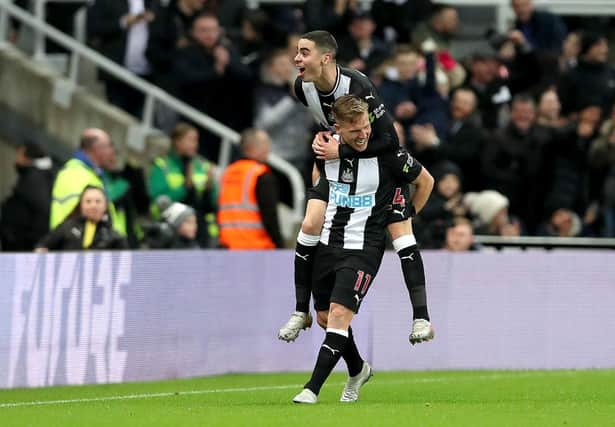 And they've not had a worse goalscoring return from their last three games in the top flight since Steve McClaren was stumbling his side towards relegation - the parallels (spending, atmosphere, etc) are stark.
As a result, Steve Bruce has decided change is in the offing... but what change? Our writers Liam Kennedy and Jordan Cronin assess what Bruce might do, what United's best XI is and discuss the impact, or lack of it, from the three January signings.
Steve Bruce has hinted at changes in personnel and system, but has he got the tools to do so?
LK: "Being brutally honest, I don't think there is a massive amount of quality in this Newcastle squad, but Bruce has to try and change something. The midfield looks totally ill-suited and overrun, even against lower league opposition, while the lack of focal point, goals or creating of chances is a major concern. This system IS NOT working, simple as."
JC: "I'm not sure he does, no. I still think the system with five at the back is best suited to Newcastle but the players genuinely look lost in it. We have seen how effective it can be under Rafa Benitez and while Bruce isn't Rafa, he can take a big leaf out of his book. Get the players back on the training and get back to basics. Get them organised. It's a system that isn't being managed properly."
Would you switch to a back four or stick with a three?
LK: "I always prefer a four but these defenders are 100% suited to playing a three so it might be worth another try, with different personnel. Should that not work, I do think changing to a four might allow for United to have more bodies further forward and not be on the back foot quite so much. He's far from perfect but I'd like to see DeAndre Yedlin back in."
JC: "In an ideal world, I'd like to see a back four but the current defenders are suited to playing in a back three. The defenders are Newcastle's strongest area so let's play to their strengths. The current system can work, it just needs to be executed better. While the players are not faultless, this one is down to Bruce."
Is it about time Matt Ritchie got a first-team recall?
LK: "Yes, yes, yes. He would always be the first name on my team sheet. For me, the adding of Danny Rose, who looks a mile off it, has created, not solved a problem down the left."
JC: "I find it really difficult to leave out Ritchie but can sympathise with Bruce as to why he has in recent weeks as Rose was an exciting signing. I'd love nothing more than to give Rose time to get back to full fitness but Newcastle don't have time. Newcastle must take full advantage of the fixture list over the next few weeks to boost their survival hopes. Recall Ritchie!"
Has Sean Longstaff and Nabil Bentaleb in the middle been a successful experiment?
LK: "No. The form of Sean Longstaff has to be of massive concern to everyone associated with Newcastle. The lad looked a star under the arm of Rafa Benitez, but with that coaching out the equation, he's looked a shadow of the player. Of course, a loss of confidence due to the injury cannot be overlooked, too. Bentaleb looks just like a player who hadn't kicked a ball since the end of last season - and he's playing FAR too deep."
JC: "Longstaff needs to play further forward because in his current role, he looks nothing like the player we saw burst onto the scene last year. I'd argue Matty looks a better option at this moment in time. Similarly to Rose, Bentaleb looks miles off the pace. The next few weeks are vital, United can't carry passengers."
With Dwight Gayle likely to get a recall to the XI, would you play him with, or instead of Joelinton?
LK: "This is a really tough call. Personally I think I'd like to see Joelinton play with a more natural strike partner, but for the weekend I'd be tempted to put the Brazilian on the bench. For me, he's not as bad as some say, but by the same token I am far from impressed by him. There could well be a player in there, but not in this team, or system, or pressure. The £40million price tag is a huge weight on his shoulders."
JC: "I don't think Gayle is the answer but who else have Newcastle got? I feel for Joelinton, I really do because I don't think Bruce is doing him any favours but he needs to be taken out the firing line because it's clearly not working."
What have you made of the Magpies' three loan signings?
LK: "Very disappointing but I have to say I am far from surprised they have struggled. Bentaleb had not played since March last year, Rose has barely got a kick for Spurs in recent months and Valentino Lazaro is playing played out of position, and adapting to a new league and club, coming into a struggling side. When you think of it, it's a recipe for disaster."
JC: "Completely taken me by surprise as to how poor they have been. Rose and Bentaleb, to no fault of their own, look like players who haven't played competitively over the last few months. I don't buy into Lazaro being a wing back at all. His brightest moments in a Newcastle shirt have come when he gets forward. He is clearly a winger."
Pick YOUR starting XI for Burnley on Saturday...
LK (4-3-2-1): Martin Dubravka; DeAndre Yedlin, Federico Fernandez, Jamaal Lascelles, Danny Rose; Isaac Hayden, Nabil Bentaleb, Matt Ritchie; Miguel Almiron, Allan Saint-Maximin; Dwight Gayle.
"Yes, I know, reinventing the wheel at this stage of the season could also prove fatal but this side needs cutting loose a little. I don't think there is a lot of quality in it, but still think they can be set up to score goals, or at least create chances."
JC (5-3-2): Martin Dubravka, DeAndre Yedlin, Fabian Schar, Jamal Lascelles, Florian Lejeune, Matt Ritchie; Isaac Hayden, Matty Longstaff, Sean Longstaff; Dwight Gayle, Miguel Almiron/ Allan Saint-Maximin."I'd like to see Sean Longstaff pushed further forward like he was at Oxford. It probably seems crazy to drop either Saint-Maximin or Almiron - I don't know who I'd drop - but while they are Newcastle's most exciting talents, they aren't delivering on the attacking front. Suppose that's the decisions Bruce gets paid for…"