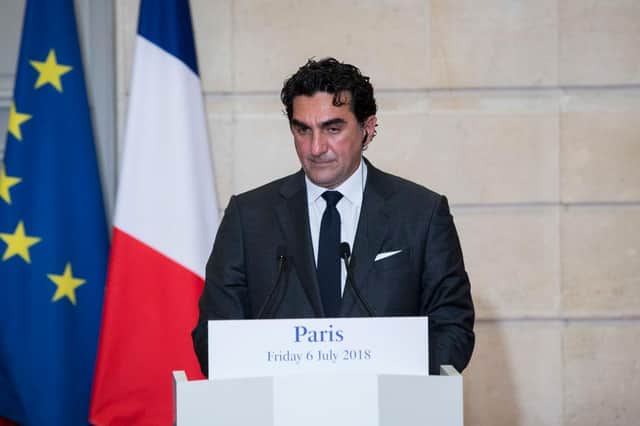 Saudi Arabia's Yasir Al-Rumayyan, the Managing Director of the Public Investment Fund gives a joint press conference on the Sovereign Health Funds program to fight climate change at the Elysee Palace, in Paris, on July 6, 2018.
Reports of fresh documents being filed to the Premier League as part of their owners and directors test – also known as the 'fit and proper persons test' – regarding piracy and Saudi governmental links to BeoutQ broke on Monday, with claims the near five-week wait for the deal to get the green light, or be rejected, could stretch even further into May – potentially beyond.
But what do we know about the test – and what is the crux of the issue facing the bid? How long will it take to resolve and what steps will follow the test for any exchange to complete? Here's the Premier League owners and directors test explained…
WHAT IS THE PREMIER LEAGUE OWNERS AND DIRECTORS TEST?
The test is an assessment of the individual, or group, looking to take on the running of the football club.
It is designed to assess whether the potential owners can run the club in a suitable manner and that they have the required funds in order to do so.
Anyone who is a registered director of the club is subject to the test, with clubs having to provide an up-to-date list at the end of each season to ensure criteria is continually being met.
WHO HAS TO UNDERGO THE PREMIER LEAGUE OWNERS AND DIRECTORS TEST?
The Premier League state that any "directors and individuals exercising 'control' over a Club, as well as any shareholder with a 30% stake in a Club (or greater)" have to undergo the test.
WHAT INFORMATION IS SUBMITTED AS PART OF THE PREMIER LEAGUE OWNERS AND DIRECTORS TEST?
Potential owners have to submit a variety of information to the Premier League, with the league able to request any details they feel are necessary to ascertain whether they are able to take control of a club.
As well as the agreement to purchase the club, potential owners will have to submit financial records and prove they do not have any criminal convictions.
HOW LONG DOES THE PREMIER LEAGUE OWNERS AND DIRECTORS TEST TAKE TO COMPLETE?
When a club intends to appoint a new director, or complete a takeover, they must inform the Premier League at least ten working days before the director is anticipated to be appointed.
The test is said to take anywhere up to four weeks to complete, although usually takes closer to a fortnight.
This may normally be a cause for concern, given the checks on United's potential new owners have taken at least four weeks but one significant explanation for delays is the logistical problems the coronavirus outbreak has caused in the UK.
Not only has it proved difficult to get everyone together it is also understood that this process has been somewhat lengthened due to the Premier League prioritising their Project Restart – the scheme designed to get top flight football back in June.
WHAT COULD LEAD TO A TAKEOVER BEING BLOCKED?
The Premier League will disqualify potential directors – and in effect block a takeover – if any of these below applies to the individual:
- They failed to provide all relevant information (including, without limitation, information relating to any other individual who would qualify as a director but has not been disclosed.
- They provided false, misleading or inaccurate information.
- They either directly or indirectly he is involved in or has any power to determine or influence the management or administration of another club or Football League club.
- They either directly or indirectly he holds or acquires any significant interest in a club while he either directly or indirectly holds any interest in any class of shares of another club.
- They become prohibited by law from being a director.
- They have a conviction (which is not a Spent Conviction) imposed by a court of the United Kingdom or a competent court of foreign jurisdiction.
- They become the subject of an Interim Bankruptcy Restriction Order, a Bankruptcy Restriction Order or a Bankruptcy Order.
- They have or have been a director of a club which, while he has been a director of it, has suffered two or more unconnected Events of Insolvency in respect of each of which a deduction of points was imposed.
- They are an Intermediary and/or is registered as an intermediary or agent pursuant to the regulations of any national member association of FIFA.
A full list of disqualification criteria is laid out in the Premier League regulations, and there is an appeals process available against disqualification.
WHY IS THIS DEAL FACING PROBLEMS?
Without being party to exacts on the negotiations – the Premier League are keep the details of this test confidential – it is impossible to say for certain what problems have arisen.
While human rights abuses have been raised by the likes of Amnesty International and the widow of murdered journalist and Saudi author Jamal Khashoggi, Hatice Cengiz, this is not thought to be an issue under consideration.
The issue that is said to have raised the most concern is with regards piracy and links to the Saudi government – their sovereign wealth is set to buy the majority shareholding in United – and BeoutQ.
BeoutQ is a pirate pay television broadcaster serving Saudi Arabia and other gulf states since 2017. The channel is reported to have been involved in simulcasting programming of the Qatar-based broadcaster BeIN Sports – something which has brought about criticism from the Premier League, USA authorities and other nations' football governing bodies.
These new documents are said to show links between the Saudi regime and the broadcaster. Exact details of this are not known.
Sources familiar with the politics of the Middle East claim this is the last hope of the Qataris to block their 'Gulf Cold War' rivals from getting a foothold in the lucrative Premier League.
There remains a positivity that the deal will get done, from the buyers side, while Mike Ashley's camp are getting increasingly frustrated having wanted the deal done weeks ago due to cash flow issues in his business empire.
WHAT HAPPENS IF THE PREMIER LEAGUE FAIL TO RATIFY THE DEAL OR ANY DIRECTORS?
A rejection of a director or the ownership stake of PIF could prove devastating for this bid.
Not only would it have the potential to cause an international storm with one of the UK's most trusted and valued trade partners but it has the power to ban the Saudis from ever taking a stake in English football.
A legal challenge would likely be raised – something which could become a bitter, lengthy courtroom battle – which is unlikely to be in the interests of either the Premier League or Newcastle's owners-in-waiting. But first and foremost the Premier League has an appeals process, which would undoubtedly be taken up by the buyers.
HISTORY OF THE TEST: HAS ANYONE FAILED IT?
Introduced in 2004, the test is mandated by the Premier League, the Football League, the National League and the Scottish Premier League.
The first director known to have failed the test was Dennis Coleman, director of Rotherham United when they went into administration in 2006 and 2008.
In November 2009, Stephen Vaughan, then owner of Chester City, became the first owner to fail the test, after he was legally disqualified from being a director of any company. This was a result of VAT fraud.
In March 2012, Rangers owner Craig Whyte was found not to be a fit and proper person.
In June 2014, One Direction's Louis Tomlinson and businessman John Ryan attempted a takeover of Doncaster Rovers, but Ryan failed the test.