Newcastle United takeover: What this week's news means for the long-anticipated PIF, PCP & Reubens deal decision
Newcastle United's proposed takeover by the Public Investment Fund of Saudi Arabia, PCP Capital Partners and the Reuben Brothers has become national news again this week.
Thursday, 15th April 2021, 12:30 pm
Updated
Thursday, 15th April 2021, 12:56 pm
The front page of one daily national title was splashed with a tale of governmental talks and alleged interference in deal proceedings, while local pages have led on interesting documentation reveals and redundancy letter takeover references.
While all official channels remain tight-lipped on progress, social media, the rumour mill and the column inches have been packed with Saudi deal talk – but what does it all mean? Our writer Liam Kennedy gives his take on the issues that have arisen in the last seven days.
How big is the MBS and Boris Johnson lobbying story – and what impact will it have on any proceedings?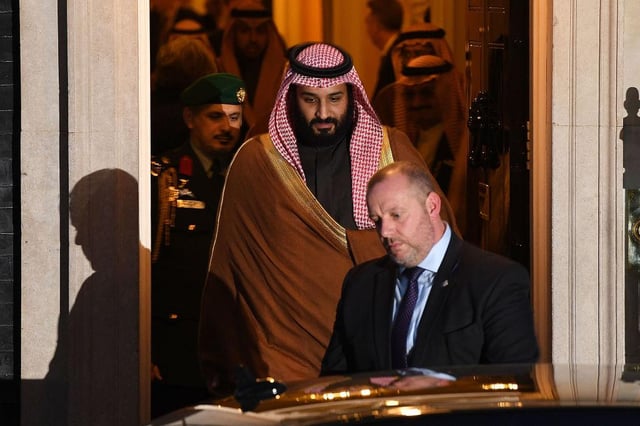 Saudi Crown Prince Mohammed bin Salman leaves number 10 Downing Street after a meeting with British Prime Minister Theresa May on March 7, 2018 in London, England.
World leader lobbies another world leader on a key issue that impacts businesses within their own country. This is a day-to-day thing, isn't it? Well, the key difference being that MBS is chairman of the Public Investment Fund, one of said businesses involved. And that's where the degrees of separation, or lack of, becomes a key argument.
How separate is PIF from the Saudi state? Well, taking one look at it, not very. And that's the view the Premier League took on this, the fact PIF's board is made up of ministers and royals from the state makes it impossible to split. Can these representatives act of their own mind or are they influenced by the state? Another point of contention.
However, Saudis believe they've done enough to prove separation and that directors act in the interests of PIF, without influence. Also, it must be remembered, there are international bodies who do see them as separate entities. The arbitration will decide ultimately which way this decision falls.
What I would say is any lobbying from MBS to Johnson, who then supposedly leaned on the Premier League via a go-between – something denied by both government and consortium sources – would prove the ODT was open to outside influence from anywhere. And I am not at all sure that's a can of worms the Premier League want to open. I think we all know the tests have proven they are not robust enough in their current form.
This, to me, has more impact on the public narrative than anything that will happen legally.
Has arbitration with the Premier League started?
I get asked this question daily by fans in emails, private messages and Twitter mentions.
And I'll keep this answer short. Anyone saying they know if the arbitration has started or hasn't is guessing, albeit they are educated guessed.
This is a very private process, and must be conducted as such. See the publicly released documents from the High Court for proof of that.
It may be on now, it may have started two weeks ago, it may be scheduled for a month's time. This will play out to its own timescale – and no amount of worrying will change that.
Are the communications between the Premier League and government departments important?
Yes. And this was good journalistic work from our regional neighbours over at the Chronicle.
The communications revealed in the stories show the Premier League said it was close to making a decision. What we do not know is whether that was in favour or against the deal. It is likely it was against, given that the Premier League had sent an early provisional 'no' to the club.
Some of the details mentioned may well turn out to be useful for the club's legal team in their arbitration battle, or beyond should it be needed.
It also further proves the Premier League were out of their depth when it came to dealing with this deal via their owners' and directors' test, as mentioned previously.
Is the Frasers Group redundancy letter takeover related or not?
No. Sadly. The letter makes mention of 'anticipated transfer of ownership of the club' and 'new owners of Newcastle Football Club', which is a very interesting use of language. But this does not mean a deal is any closer, according to sources.
This was more likely to be some Mike Ashley and Frasers Group housekeeping re their St James' Park store – it's been costing them cash with little to no return for 12 months now – and the takeover being used as justification for job losses over anything relating to tangible progress.
The store is now no longer likely to be an arm of Sports Direct, with new shirt suppliers Castore taking the reins. Frasers are expected to vacate the current unit by April 25 ahead of a revamp and potential new kit launch before the end of the current Premier League season.
And finally, with NUFC going six points clear of the bottom three at the weekend, is relegation really as make or break to any deal as some would have you believe?
Yes, massive. This deal, in my view, dies with relegation. Things become too complicated if Newcastle drop. I just don't believe Ashley sells the club for a Championship price. He is much more likely to interest free loan the club a sum, like he has previously, and keep wages high, hoping to bounce back at the first time of asking than drop £100m minimum off his asking price.
And I don't think any buyer pays a Premier League premium for a second tier club.
Relegation to me probably just means at least another season, if not more, of Ashley's Newcastle – and not many want that after near 14 years of pain.
A message from the Football Clubs Editor
Our aim is to provide you with the best, most up-to-date and most informative Newcastle United coverage 365 days a year.
This depth of coverage costs, so to help us maintain the high-quality reporting that you are used to, please consider taking out a subscription; sign up here.
Your support is much appreciated. Richard Mennear, Football Clubs Editor