Newcastle United transfers: Who is Rodrigo Vilca – the Peru youngster set for deadline day move?
A quiet end to the transfer window for Newcastle United, but they did sneak in the signing of 21-year-old Peruvian midfielder Rodrigo Vilca.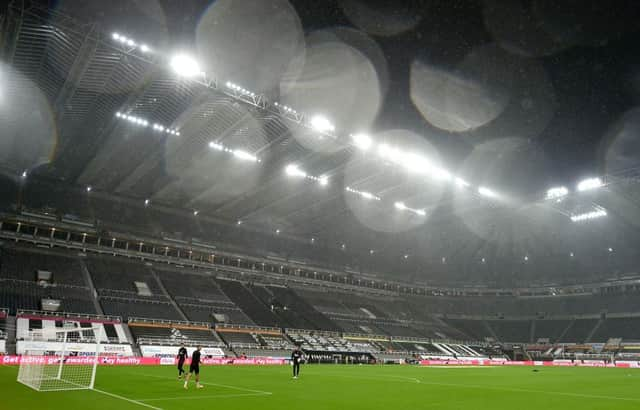 A general view of the stadium ahead of the English Premier League football match between Newcastle United and Burnley at St James' Park in Newcastle-upon-Tyne, north east England on October 3, 2020.
No household name, of course, who is the youngster and what role will be fulfil at Newcastle United?
Here's a fact file about the little known summer signing...
Position & style
The youngster is known as a No10 in Peru and has been around the fringes of the national squad, of which former United man Nolberto Solano is assistant manager.
Small in build and just five foot nine inches, Vilca has the ability to beat a man and chip in with goals and assists. He has four strikes in 24 games in the Peruvian top flight.
He's described by those who've seen him as having a good range of passing, quick feet and a good turn of pace.
Deal details
Newcastle United are thought to have paid around £200,000 for the Deportivo Municipal attacker.
And Vilca has signed a four-year deal at United, which would take him to the age of 25.
Will Vilca provide a first-team option?
At this stage it is thought Vilca will slot straight into the Newcastle under-23 squad as he acclimatises to English football.
It is thought the youngster will likely be given until January to get up to speed, following a two-week quarantine period, and then could be loaned out in the next transfer window.
What has been said about the deal?
South American football expert Tim Vickery: "Well, he doesn't have anything like the pedigree of Nolberto Solano. It's a strange one, this one.
"He's not in Peru's squad for World Cup qualification next week. He wasn't in their under-23 squad at the start of the year. He wasn't in Solano's under-22 squad during the Pan-American games last year.
"He has trained with the Peruvian national side when they had a few training sessions with a few domestically-based players. He really has very little pedigree with a mid-table side in the Peruvian league, which at the moment, the standard is very weak indeed.
"There's some talent there. But he looks very much of a lightweight. So, this is one out of left-field. And the reported fee is something like £250k, it's the kind of fee which would have got you Alan Ball 50 years ago and that fee shows if Newcastle get anything out of this then it will be a bonus."
Rodrigo Vilca: "At the beginning, I could not believe the opportunity to jump directly from Peru to a Premier League club. It has been a rollercoaster of emotions.
"I have cried with emotion, not once but several times. At times I have been tense, but now I am very happy and I hope to have a long and successful time in Newcastle.
"It seems a very nice city. I hope to train as soon as possible now. I don't want to lose time – I want to be ready!".
Chris Hogg, Newcastle United's lead player development coach for the under-23 side: "We're delighted to have Rodrigo here. He's an exciting attacking player, and we'll be hoping to see that attacking ability.
"We'll be looking to give him the opportunity to improve with us and be a part of Newcastle United's future."
Hi, our aim is to provide you with the best, most up-to-date and most informative coverage of YOUR club every single day, home and away, 365 days a year.This depth of NUFC coverage costs, so to help us maintain the high-quality reporting that you are used to from the football team at the Shields Gazette, please consider taking out a subscription to our new sports-only package.You'll find all the details at www.shieldsgazette.com/subscriptions/sportsYour support is much appreciated.Richard MennearFootball Clubs Editor