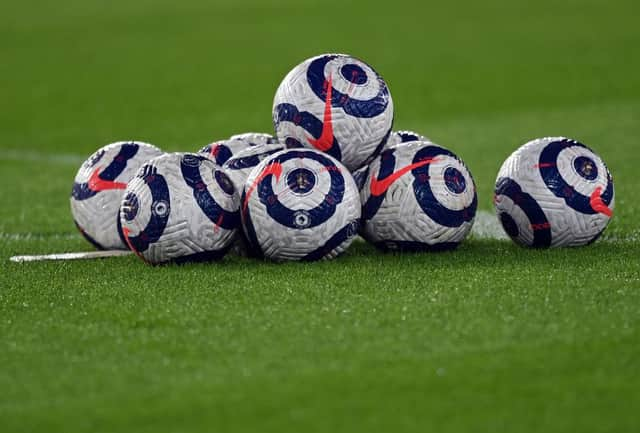 Premier League match balls. (Photo by Shaun Botterill/Getty Images)
Captain Jamal Lascelles stepped up deep into stoppage time to head home a thumping equaliser in a 1-1 draw that laid bare just how badly the Toon Army are missing star striker Callum Wilson.
The Magpies are now two points clear of the drop zone going into next weekend's must win clash against fellow strugglers Brighton.
We've taken a look at some of this weekend's biggest Premier League talking points below...
Newcastle United 1-1 Aston Villa: Toon in desperate need of a goalscorer
Credit where credit is due, Callum Wilson has turned out to be an inspired signing for Newcastle United.
Recruitment has not always been the Magpies' strong suit under Mike Ashley, but the striker has been a rare shining light in a season that has regularly drifted towards gloominess on Tyneside.
The 29-year-old is currently injured, however, and without him, the Toon Army look bereft of a killer instinct.
Joelinton, Dwight Gayle, and Andy Carroll all got game time against Aston Villa on Friday night, but none of that trio ever really looked like a proper goal threat, and in the end it was centre-back Jamal Lascelles who got the vital strike in stoppage time.
This could yet prove to be an invaluable point for Steve Bruce's men, but they need to find a way of hitting the back of the net without their main man if they are to comfortably beat the drop.
Leeds United 0-0 Chelsea: Far from your average stalemate
As far as 0-0 draws go, this was a cracker.
Both sides hit the woodwork at Elland Road on Saturday lunchtime, both sides drew fine saves from Edouard Mendy and Illan Meslier respectively, and both could have won it on another day.
For Leeds, it was a third consecutive game without a victory in the top flight, but it is a measure of their superb character and Marcelo Bielsa's widely-revered tactical principles that they can bloody the nose of such an expensively-assembled squad of Premier League big guns and nobody bats an eyelid.
Crystal Palace 1-0 West Brom: Big Sam set for big drop
When West Brom appointed Sam Allardyce partway through the season, it was widely accepted that the Baggies would drag themselves out of a relegation battle.
After all, the veteran boss has never been relegated in his career in the dugout – and it's worth noting that he has voluntarily walked into some tight scrapes, to say the very least.
In some respects, Big Sam is a bit like the Titanic. Up until now, it has been a truth universally acknowledged that he is unsinkable.
But nobody could have foreseen the true size of the iceberg that he has encountered at The Hawthorns, and after Saturday's narrow defeat to poster boys of mediocrity Crystal Palace, it looks as if the hull has been pierced and the rivets are flying loose.
Never say never where Allardyce is concerned, but it's hard to see him getting out of this one.
Everton 1-2 Burnley: Clarets live to fight another day
It's easy this Premier League survival lark, isn't it?
Not to tempt fate, but it would take a fair few major twists and a completely uncharacteristic series of capitulations for Burnley to go down now.
You always get the sneaking suspicion with Sean Dyche's side that they have it in their locker to land haymaker on one of the top flight's big boys, and it was Everton who were left dazed and confused on Saturday evening by a fine display from the Clarets.
Seven points clear of the bottom three with nine games left to play, Burnley still have games against Southampton, Newcastle United, Fulham, and Sheffield United to come.
Their fate is very much in their own hands now.
Southampton 1-2 Brighton: Albion pick up huge win
How important could this win be for Brighton come the end of the season?
The Seagulls have kept us on the edge of our seats in recent weeks by inventing a myriad of new and intriguing ways to not win football matches, but Graham Potter's men finally brought their exhibition of obtuseness to an end with a crucial three points against the Saints.
This was the first time that Albion have scored more than one goal in a Premier League match since January 2nd, and by rediscovering their shooting boots, they may have just handed themselves a huge advantage in the race to beat the drop.
Leicester City 5-0 Sheffield United: How badly will Wilder be missed?
The Blades have dominated headlines in recent days after it was revealed that long-term manager Chris Wilder would be leaving the club following a five-year stint that has seen United rise from the doldrums of League One to the dizzy heights of the Premier League.
Based on their first outing since his exit, however, letting him go might not have been the brightest idea.
Granted, Sheffield United have been dismal for large parts of the season, but it speaks volumes as to the job that Wilder has done that even during these difficult times, few supporters or pundits were calling for his head.
Paul Heckingbottom has stepped in until the end of the season, and his first attempt at extinguishing the flames that threaten to engulf the Blades was akin to chucking a Fruit Shoot on a bushfire.
In truth, the interim boss is nothing more than a crash test dummy – a doomed placeholder fated to absorb the gruesome and increasingly inevitable impact of relegation.
Where the Blades go after his brief stint at the helm, however, remains anybody's guess.
Arsenal 2-1 Tottenham Hotspur: Controversy and genius
There's an ongoing joke among Spurs fans that Erik Lamela could have his left leg amputated and he'd still find a way of not using his right foot.
The Argentine is, it seems, is a little bit one-footed, but nobody was complaining after his superb opening goal in the North London derby on Sunday.
A curling, driven rabona that arrowed through the legs of Thomas Partey for an added sprinkling of audacity, we might just have found our goal of the season.
Things are never straightforward when Spurs meet the Gunners, however, and it wasn't long before Lamela made his pitch for villain of the piece too.
The forward was dismissed for a second bookable offence following a needless forearm into the face of Kieran Tierney, and with Jose Mourinho's side down to 10 men, they were always going to struggle to mount a comeback after Arsenal had edged ahead courtesy of a controversial Alexandre Lacazette penalty.
For Spurs, this was yet another hiccup in their bid for a top four spot.