'Please sack Steve Bruce' – Newcastle United fans again call for manager's head after Aston Villa surrender
Another loss, and yet more calls for Steve Bruces' head.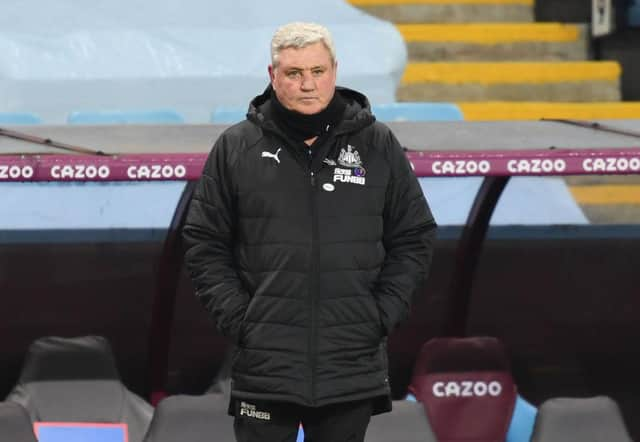 BIRMINGHAM, ENGLAND - JANUARY 23: Steve Bruce, Manager of Newcastle United looks on during the Premier League match between Aston Villa and Newcastle United at Villa Park on January 23, 2021 in Birmingham, England. Sporting stadiums around England remain under strict restrictions due to the Coronavirus Pandemic as Government social distancing laws prohibit fans inside venues resulting in games being played behind closed doors. (Photo by Clive Mason/Getty Images)
Here's how #NUFC reacted to the 2-0 Aston Villa defeat…
@NUFC360 – "BRUCE OUT! Get him gone. Enough is enough!"
@TaylorandBesty – "Get shot of him before he relegates us."
@Magpie24_7 – "Please, please, honestly I'm begging the club. This is too much man. It's every week. Something needs to be done. Please sack Steve Bruce man!"
@EngeLskLeinz00n – "We should of just give them the three points when #NUFC asked for a postponement saved us from this."
@NUFCThreatLevel – "Look at how disappointed other team's footballers are to miss out on 3 minutes of playing against Newcastle United."
@GeordieMark3 – "That's Villa's easiest game of the season out of the way."
@PGL55 – "Shelvey just strolling around like it's Newcastle winning 2-0."
@AH93__ – "Jeff Hendrick is comfortably the worst player I've seen represent our club like."
@MattyKaye93 – "I don't reckon Jonjo Shelvey gets passed 5 on the bleep test."