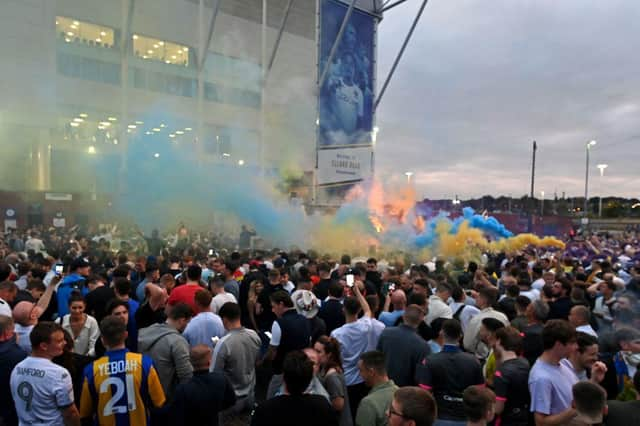 Leeds United supporters gather outside their Elland Road ground to celebrate the club's return to the Premier League after a gap of 16 years, in Leeds, northern England on July 17, 2020. - Leeds United were promoted to the Premier League on Friday after West Bromwich Albion's 2-1 defeat at Huddersfield ensured the Championship leaders will end their 16-year exile from the top-flight.
Marcelo Bielsa's men secured their return to the Premier League after a 16-year absence on Friday night.
And despite his history with fierce rivals Manchester United, Newcastle United boss Bruce is welcoming Leeds with open arms.
Speaking ahead of the Magpies' trip to Brighton & Hove Albion on Monday evening, he said: "There's a unique club too (like Newcastle) in Leeds, it just shows you how difficult football is.
WATFORD, ENGLAND - JULY 11: Steve Bruce, Manager of Newcastle United reacts prior to the Premier League match between Watford FC and Newcastle United at Vicarage Road on July 11, 2020 in Watford, England. Football Stadiums around Europe remain empty due to the Coronavirus Pandemic as Government social distancing laws prohibit fans inside venues resulting in all fixtures being played behind closed doors. (Photo by Mike Egerton/Pool via Getty Images)
"For a club of that stature to go 16 years is quite remarkable.
"I think the PL will be better with Leeds United in it. They're a unique lot as well, who are fiercely loyal to their club. I think the PL will benefit from Leeds United. And with my Manchester United hat on, it takes a lot for me to say that."