Premier League chief issues stark warning over premature return to action - 'It could cost lives'
Brighton chief executive Paul Barber has warned a premature return from the coronavirus pandemic could "cost lives" as opposition continues to grow to the Premier League's Project Restart.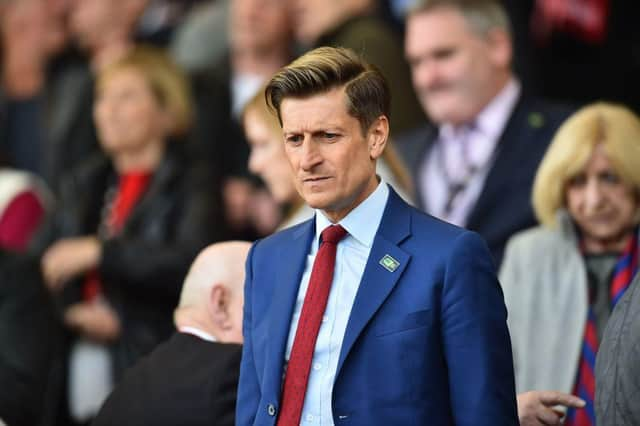 Crystal Palace's chairman Steve Parish.
Watford became the latest club to rail against plans to end the season at neutral venues, with chairman Scott Duxbury saying the league has a "duty of care" to address concerns about a "distorted nine-game mini-league".
Barber has made Brighton's opposition plain from the start but he ramped up his concerns, telling the Daily Mail: "We have got to be careful that we do not misstep here because if we do, it could ruin lives. It could cost lives. And we cannot afford that."
Ahead of Monday's crunch meeting of top-flight shareholders, Watford, Brighton and Aston Villa have now made their opposition to the current plans clear.
The plan to use neutral grounds for the remaining 92 fixtures sticks in Duxbury's craw, with Watford 17th in the Premier League and looking to stave off relegation amid a challenging backdrop brought by Covid-19.
"There is no altruism in the Premier League," he said. "There are 20 different vested interests, which sometimes align but more often than not work purely to protect each individual club.
"That is why some clubs are happy to sign up to 'Project Restart' because arguably there is only an upside in participating in this compromised format; it means Liverpool can win the title, other clubs can book their place in Europe next season or potentially fight their way up the table from a position of safety.
"But when at least six clubs - and I suspect more - are concerned about the clear downside and the devastating effects of playing in this kind of distorted nine-game mini-league, then I believe the Premier League has a duty of care to address those concerns."
It comes as a third Brighton player has tested positive for coronavirus.
The PA news agency report the unnamed player will go into 14-day isolation while he recovers from the virus.
The rest of the squad will continue to train, both at home and in solo sessions at the club's training ground.
Two other players, whose names have also not been revealed by the club, contracted the virus earlier on in the pandemic, but are understood to have since recovered.
Meanwhile, Crystal Palace chairman Steve Parish is backing Premier League clubs to come to a consensus on how to end the season.
"There are no easy answers, we have to work through it as a collective and I think we will and come out with a consensus in the end," he said on The Andrew Marr Show.
"(The meeting) is another part of the journey in trying to get football back. We would be derelict in our duty if we did not find a way for the game to come back.
"It may prove beyond us, we have huge challenges in order to get it back to complete the season but we are planning on doing so."