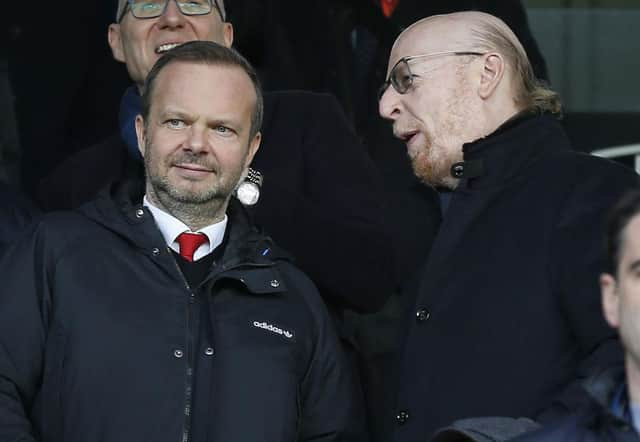 Manchester United's US co-chairman Avram Glazer (R) talks with Manchester United's executive vice-chairman Ed Woodward (L) before the English Premier League football match between Fulham and Manchester United at Craven Cottage in London on February 9, 2019.
Newcastle United along with the other 13 clubs not involved in the ESL plan met today with the Premier League and the Football Association to discuss the proposals, which would see Manchester United, Liverpool, Tottenham Hotspur, Arsenal, Chelsea and Manchester City join the revolutionary 20-team closed shop competition.
And following the meeting the Premier League have issued a statement saying the 14 clubs "unanimously and vigorously rejected" competition plans and that it would be "considering all actions available" in a bid to stop the proposal progressing.
The statement, in full, reads: "The Premier League, alongside The FA, met with clubs today to discuss the immediate implications of the Super League proposal.
Jurgen Klopp, Manger of Liverpool puts on his winners medal after being presented by Richard Masters, Chief Executive of the Premier League and Liverpool legend Sir Kenny Dalglish during the Presentation ceremony of the Premier League match between Liverpool FC and Chelsea FC at Anfield on July 22, 2020 in Liverpool, England.
"The 14 clubs at the meeting unanimously and vigorously rejected the plans for the competition.
"The Premier League is considering all actions available to prevent it from progressing, as well as holding those Shareholders involved to account under its rules.
"The League will continue to work with key stakeholders including fan groups, Government, UEFA, The FA, EFL, PFA and LMA to protect the best interests of the game and call on those clubs involved in the proposed competition to cease their involvement immediately.
"The Premier League would like to thank fans and all stakeholders for the support they have shown this week on this significant issue.
"The reaction proves just how much our open pyramid and football community means to people."
He said: "There's no question that money plays a hugely important role in sports and football, as it does with anything. However, there is a line that should not be crossed when you begin to endanger the essence of the game and it's competitive nature. #SuperLeagueOut #PremierLeague."
Ghodoussi, with wife Amanda Staveley, is waiting for the results of Newcastle United's arbitration with the Premier League on the application of the owners' and directors' test re directors in the £300m+ deal involving Reuben Brothers and majority shareholders-in-waiting the Public Investment Fund of Saudi Arabia.