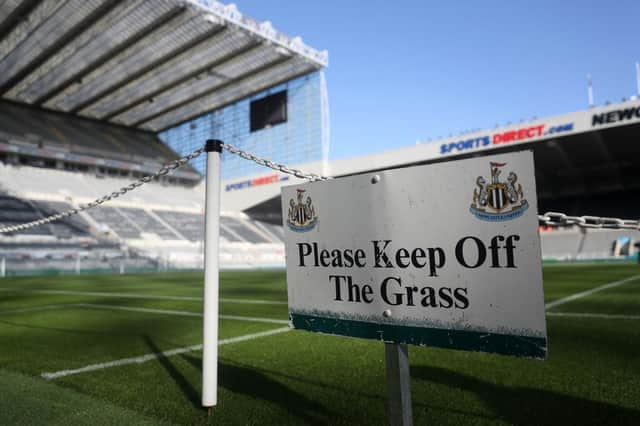 NEWCASTLE UPON TYNE, ENGLAND - OCTOBER 27: General view inside the stadium ahead of the Premier League match between Newcastle United and Wolverhampton Wanderers at St. James Park on October 27, 2019 in Newcastle upon Tyne, United Kingdom. (Photo by Ian MacNicol/Getty Images)
According to reports in the Athletic and via TalkSPORT, an increasing number of Premier League clubs have reservations about restarting the current campaign amid the coronavirus crisis.
At a meeting last week representatives of the 20 Premier League clubs agreed that finishing this season in spite of the COVID-19 pandemic was paramount, even if that entailed putting top flight games behind-closed-doors.
But with the impact of the virus really taking hold in the UK over the last seven days, and increasingly strict measures being put in place by the government, football chiefs appear to be having a change of heart.
The Athletic report a senior Premier League source as saying: "You look at the people sitting around the Premier League table by Skype; their egos cannot sustain a mirror being held up to them.
"The fact is they are not as important as a Tesco delivery driver at this time. We run a game. No more, no less. There is no place for sport at the moment."
Football had been set to return on April 30 at the earliest, according to a joint statement by English football's decision-makers last week.
There appears little prospect of that happening, with the country currently on lockdown.
Any decision to void the season would require 14 of the 20 clubs to vote in favour. The next Premier League shareholders meeting is scheduled for April 3.