'Ridiculous' - Outspoken talkSPORT pundit hits back at Jim White over Newcastle forfeit claim after Aston Villa postponement
TalkSPORT pundit Simon Jordan has rubbished suggestions that Newcastle United should have to forfeit their Premier League fixture against Aston Villa after it was postponed due to a Covid-19 outbreak.
Published 2nd Dec 2020, 11:14 BST

- 2 min read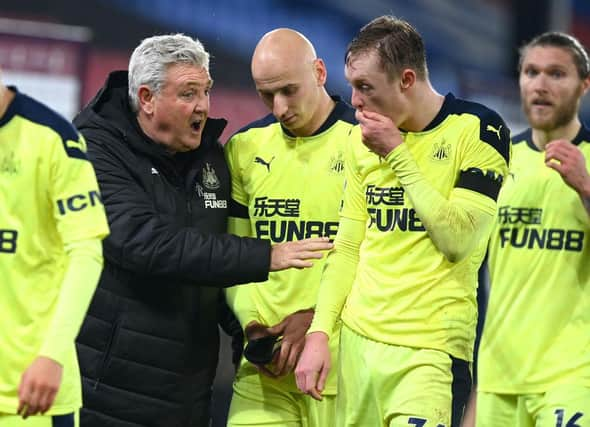 The Magpies were due to travel to Villa Park on Friday evening, but have instead asked for the match to be pushed back after a number of positive tests were returned at the club's training ground in recent days.
It is reported that five players and two members of Steve Bruce's coaching staff have tested positive for the virus in the past week, up from three prior to the Crystal Palace win. Some reports have suggested the number could be as high as 10 positive cases.
Discussing the matter on talkSPORT, host Jim White floated the argument to Jordan that the Premier League should consequently look to award the points to Villa – but the former Crystal Palace chairman was unconvinced.
The pundit said: "I thought about it last night, and I thought 'Okay, given the challenges that football have, given that they are just opening stadiums up, given the fact that we are starting to get some initiative behind the government finally beginning to understand that football fans can go into stadiums, there would be more jeopardy and more risk attached if a club suddenly comes out plays game and another club gets infected'.
"It's probably better that they took this out of commission. I know there'll be a flip-side to it which says there'll be a fixture congestion, but you can't have it all ways.
"I'm not surprised that the football authorities have gone, 'Bang, let's look like we're acting in a way which is completely doubling down on football being utterly and completely responsible for the well-being of our players'.
"I'm not surprised, with the benefit of hindsight."
White responded: "But if you're Christian Purslow, if you're Dean Smith at Aston Villa, would you not be saying, 'Hang on, give us the points. Award the three points to Villa.'?"
"No, I wouldn't", Jordan replied.
"That's a ridiculous scenario.
"You can't on one hand say that the world has been in absolute disarray, we've all understood the dynamics of how challenging this disease is, then a club goes and gets nine, ten, eleven players, coaching staff out of commission, and we'll take the points.
"I don't feel that has any sporting integrity behind it. I think it's an unfortunate set of circumstances."