Saudi Arabia is 'glamorising abysmal human rights record' with Newcastle United takeover - Amnesty International condemn potential PIF deal
Amnesty International have hit out at the possible Saudi Arabian investment in Newcastle United, claiming PIF are using the Magpies as a 'PR tool' to right the wrongs of their regime.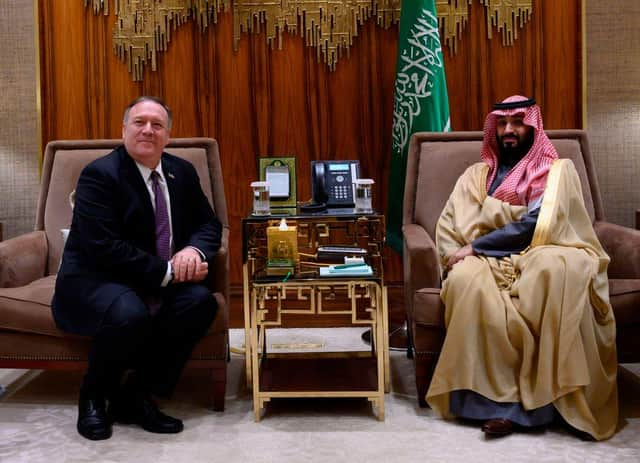 US Secretary of State Mike Pompeo (L) meets with Saudi Arabia's Crown Prince Mohammed bin Salman at Irqah Palace in the capital Riyadh on February 20, 2020. (Photo by ANDREW CABALLERO-REYNOLDS / POOL / AFP) (Photo by ANDREW CABALLERO-REYNOLDS/POOL/AFP via Getty Images)
On reports Saudi Arabia's sovereign wealth fund could plough cash into the Magpies, Felix Jakens, Amnesty International UK's Head of Campaigns, admits he's fearful the coronavirus crisis could see PIF given an easy ride when it comes to scrutiny in any takeover bid.
PCP Capital Partners, in conjunction with the Public Investment Fund of Saudi Arabia and the Reuben Brothers are understood to be close to arresting control from Mike Ashley, after 13 years of the Sports Direct tycoon's reign.
"This has apparently been on the cards for some time so it's no surprise, but we still need to see it for what it is: Saudi Arabia attempting to use the glamour and prestige of Premier League football as a PR tool to distract from the country's abysmal human rights record," said Jakens.
"With the world in crisis because of coronavirus, there's a risk that this deal could go ahead without the degree of scrutiny it should receive.
"Under the Mohammad bin Salman, Saudi human rights defenders have been subjected to a brutal crackdown, with numerous peaceful activists jailed - including Loujain al-Hathloul and other brave women's rights campaigners.
"There's been a blatant whitewash over Jamal Khashoggi's grisly murder, and the Saudi-led military coalition in Yemen has a disgraceful record of launching indiscriminate attacks on homes and hospitals."
Jakens has called for United fans to 'familiarise themselves' with the human rights issues at play.
"While it's not for us to say who should own Newcastle United, the Premier League will obviously want to establish that the club's new owners meet the league's owners and directors test. All businesses need to safeguard against any possible complicity in human rights violations, and football is no different," said Jakens.
"To some degree, sportswashing can be countered if interested parties are prepared to break its spell. Whether or not this deal goes ahead, we'd call on Newcastle United staff and fans to familiarise themselves with the dire human rights situation in Saudi Arabia and be prepared to speak out about it."