'SIX unbeaten and still people moan?' – Newcastle United fans react to latest Premier League draw with West Ham
Another point, another game unbeaten but still Newcastle United fans are not all that happy with their team's performance in the 2-2 home draw with relegation-threatened West Ham United.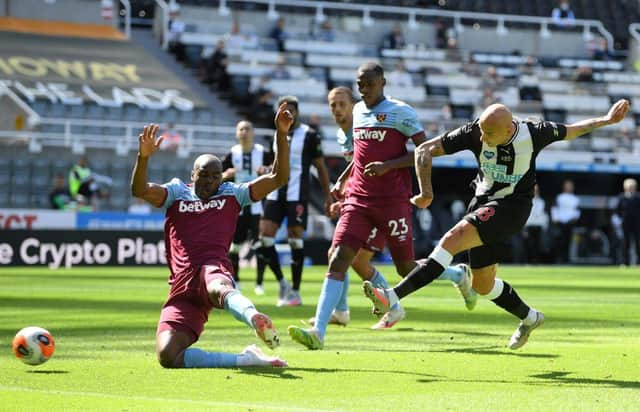 Newcastle United's English midfielder Jonjo Shelvey (R) shoots and scores a goal during the English Premier League football match between Newcastle United and West Ham United at St James' Park in Newcastle-upon-Tyne, north east England on July 5, 2020.
Here's what you've been saying on Twitter after the final whistle.
@Sneddas15 – "6 games unbeaten in the Premier League and people are moaning? No-one knew how we'd do post-lockdown, and a lot of people admitted they were nervous when the restart happened. We've done OK."
@Randeep712 – "Had Dubravka not made that mistake vs Villa, nor Lascelles today, we'd be 4 points better off and genuinely talking about a push for Europe. Small margins."
@Garwain – "Heavily reliant on ASM, without him we would struggle to create. Central defending partnership looks a shadow of last season. We look absolutely knackered."
@ColinMiddlemas – "Was a funny game to watch but a points a point. Lots to build on."
@fatgeordiemessi – "For a change i thought our lads were on the beach today. It's actually a compliment to say that with 5 games to go. Typical end of season game for me. Last 10 minutes just petered out."
@Angel_Batistuta – "Calling it now, we smash Man City 8-0, 4 for ASM, 2 Miggy, Carroll screamer, Ritchie free kick...#NUFC fans spend post game slagging Joelinton."
@SeanReesNUFC – "Overall thought we were decent. Poor defending has cost us basically. Would have been nice to win but a points a point. Thought Bentaleb was excellent when he came on, Almiron superb also."