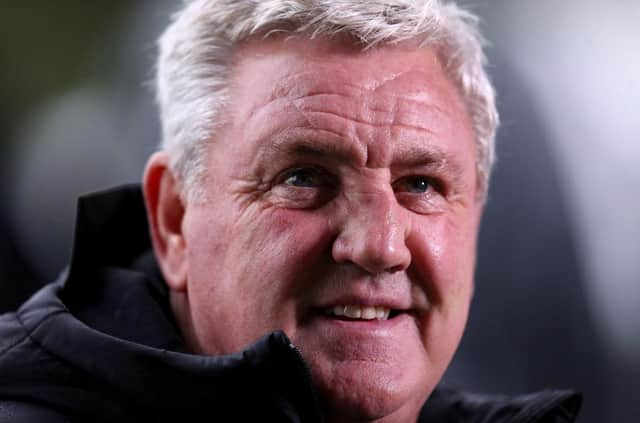 Steve Bruce.
That was Steve Bruce's response to a suggestion he's been fortunate, so far, at Newcastle United.
And United's head coach has gone on the attack ahead of tomorrow night's home game against Burnley, when he hopes his team will also be on the attack following two disappointing Premier League performances.
Bruce, a boyhood fan raised in Wallsend, surely knew the kind of scrutiny he would face as head coach.
The late Sir Bobby Robson – who took the club into the Champions League – would often vent his frustration at the "budgerigars" that chirped as he worked.
"Look, I've had noise from the day I walked through the door," said Bruce, who has managed 433 Premier League games. "I don't mind noise at all, as long as it's balanced, and I take criticism, as long as it's fair.
"I understand we haven't played well enough, for goodness sake, let's have a bit of balance on it. If we win against Burnley, we might go into the top six, and now, because I'm lucky!
"I've been going 20-odd years, I look at the clubs I've managed I've managed, and they were in a far healthier state than they are now.
"To say now that I'm lucky, I just find that a little insulting, but I'll keep trying to try and improve us, to try and get better, to try and, make us play better and that will take a bit of time unfortunately.
"We're trying to implement change, and, of course, we've got four new players now who haven't played together.
"I don't think I've played my strongest team, but we've done OK in terms of not having played well enough, but they've showed a resilience, and they kept going, and I hope that will be the case."
The criticism from fans this season, arguably, has been harsher than that from the media.
United won the Carabao Cup tie, which ended 1-1, on penalties.
Bruce admits that his team has "not played well enough" since recording an impressive 2-0 opening weekend win over West Ham United, but he believes much of the criticism he and his players have faced is over the top.
Asked if he needed a win, and a performance, to quieten the noise on Tyneside, Bruce said: "Yes, but hang on a minute, we've only lost one out of six – and we've won four. We're trying to change a little bit. We are trying to go with a back four if we can.
"Now I'm lucky, lucky, am I? Wow. I find it disappointing and deeply frustrating, this thing about a lack of direction, this thing about tactics."
Bruce rejects the idea that his team has no identity, having repeatedly spoken about how he wants United to play this season.
"What do you not understand? If you have watched us, I grant you, we have not played well enough," said Bruce. "But we have played one up, with one off the front in six out of the seven games this season. We did it coming out of lockdown as well, except going back to a back three against Liverpool and Tottenham.
"What do you not understand? I'm going to question you lot – do you not understand what we're trying to do?
"Can you not explain that to the supporters, what we are trying to do? The frustrating part is where has that come from all of a sudden?"
Bruce has called for a "balanced" assessment of his team.
"We haven't played well, I give you that," said Bruce. "But it was only three weeks ago that everyone was positive after the way we had played against West Ham.
"We haven't played well enough against Brighton. We got off to an awful start, 2-0 down after seven minutes, really difficult day for us.
"Then we go and play against one of the top teams in Europe at Tottenham. We found it very difficult, I understand that too, but let's be a little bit balanced on the whole thing, and take it for what it is.
"If we can win tomorrow, we'll probably go into the top six, and we're in the quarter-finals of the League Cup. Now, yes, there's still room for improvement in the way we play, but let's be a little bit more balanced, please."
It was put to Bruce that fans may know his formation, but may have concerns about the style of play.
Bruce said: "The style is a concern? So, all of a sudden we have to think we're Liverpool, do we? The style is we're going from a back five to a back four, with one off the front.
"I've done that in six of seven games this season, to move away from defending deep and playing on the counter-attack.
"I grant you, we've haven't been as stylish as what we would like. We were stylish against Morecambe and West Ham. We had 27 attempts against Newport. That's what we're trying to achieve.
"I think that would be pretty obvious if you were balanced about it."
Asked if he had been "lucky", Bruce said: "So, I've been lucky for 20 years, have I? We had a little luck in the (Carabao Cup) draw last night, we could have drawn Man City like we did last year. Is that luck?
"Well, I suppose it's better to be a lucky manager than a good one."
Bruce, for his part, is adamant that he's making his own luck at Newcastle.
A message from the Football Clubs Editor
Hi, our aim is to provide you with the best, most up-to-date and most informative coverage of YOUR club every single day, home and away, 365 days a year.
This depth of NUFC coverage costs, so to help us maintain the high-quality reporting that you are used to from the football team at the Shields Gazette, please consider taking out a subscription to our new sports-only package.
Your support is much appreciated.
Richard Mennear, Football Clubs Editor