Steve Bruce reveals his toughest job in football
Steve Bruce has revealed his toughest job in his managerial career – and it's not the head coach post at Newcastle United.
Bruce had taken Villa to the play-off final the previous season amid off-the-field financial problems at the club, and he believes that his time there was the toughest of his managerial career, despite the challenges he has faced at United.
"When I took over at Aston Villa, it was a club that had won four times out of 54, so the culture there, even for a big, huge club like it was, it had slipped a long way down," said Bruce. "We got to the play-offs on loans and frees – and nearly did it.
"People ask me about difficult jobs – Villa was arguably the most difficult. When I remember back, after we lost the play-off final, the club was within hours – I mean hours – (of collapsing) without the new owners coming in.
"I'm trying to tout Jack Grealish around everywhere to try to raise money, otherwise the club was going to collapse, so it was a really difficult, difficult time. But the new owners came in and made the decision they made, and I'm sure they think themselves justified when they got up to the Premier League.
"They're having a tough time a the minute, but people talk about tough times, and Aston Villa was right up there.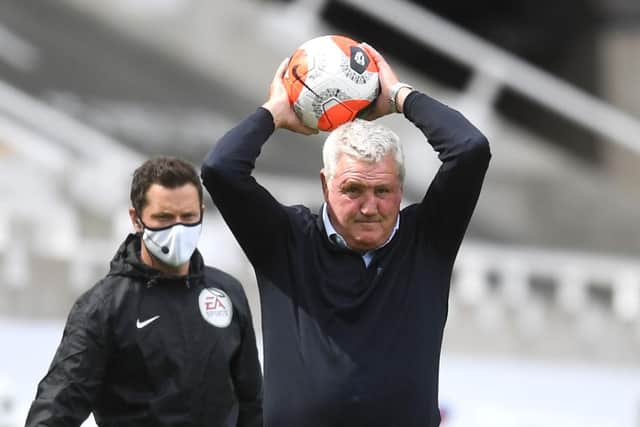 "I had a couple of good years there. You would like to get longer. Unfortunately, it didn't happen."
A Villa fan unfurled a banner in the Holte End which read "Sob on the Tyne" when Newcastle were relegated at Villa Park in May 2009, and that message was remembered by United fans in the subsequent meetings between the two clubs.
Asked about the rivalry, Bruce said: "The sacked me a couple of years ago, so I hope there's a bit of spice!
"It's difficult without supporters. They create that (the atmosphere). We want to finish strongly."