The ex-Newcastle United defender that Sunderland striker Danny Graham believes was 'underrated'
After rejoining on a free transfer over the summer, veteran hitman Danny Graham is embarking on his second spell at Sunderland.
Published 21st Oct 2020, 12:00 BST

- 3 min read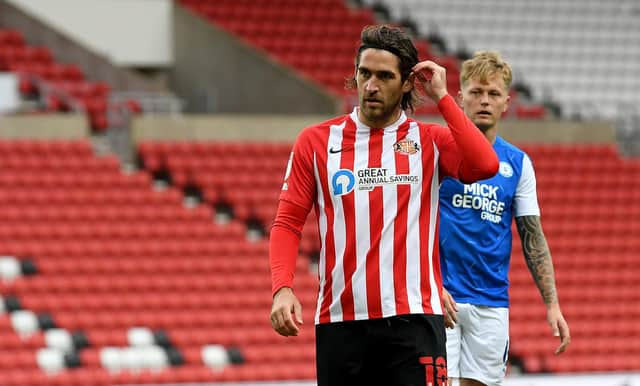 The 35-year-old first signed for the Black Cats from Swansea City in a deal worth around £5 million back in 2013, and went on to make 42 appearances on Wearside - scoring just once in a 2-0 win over Everton.
A number of loan spells followed before he sealed his permanent exit to Blackburn Rovers in 2016, but now the striker has opened up on what his time was like at the Stadium of Light first time around.
Speaking to former Celtic player Si Ferry on the Open Goal podcast, Graham covered everything from Martin O'Neill's sacking to Paolo Di Canio's bizarre tenure in the dugout.
Here are five things we learned from the forward's wide-reaching interview:
1. He wishes he could have worked with O'Neill for longer
Martin O'Neill was the manager who first brought Graham to Sunderland on January deadline day in 2013.
Their working relationship was to be short one, however, with the Northern Irishman dismissed just a couple of months later.
Speaking about O'Neill's dismissal, Graham said: "I liked him. I didn't get to spend enough time with him before he got sacked.
"I met him a few times before the move. I loved the way he spoke. I'd spoke to a few lads I knew who were at Sunderland at the time, and he was great with the players - for days off, and his training was good.
"I was really excited to work with him, and then a few games in we all get a message saying that he's got the sack. After that it was manager after manager and it was a bit of a car crash really."
2. He thinks Titus Bramble was underrated
Bramble spent three years on Wearside before hanging up his boots in 2013, amassing just over a half-century of appearances for the club.
And while he wasn't always a huge fan favourite, Graham believes that he deserves a lot more credit than he was given.
"I actually didn't realise how good of a centre-half he was until I played with him," he told Ferry.
"He was way better than people give him credit for. He was so strong and quick. He kind of knew your movements before you knew them. He always seemed to be one step ahead.
3. Paolo Di Canio came into the club all guns blazing
Hardly a surprise this one, but Graham revealed that the controversial Italian was intent on laying down the law at the Stadium of Light from his very first team talk.
Speaking about Di Canio's arrival, he said: "He was so agitated from the moment he got in there - it was weird.
"He seemed to have a bee in his bonnet. He was saying weren't good enough, we'd underperformed - basically laying into us to try and get a reaction.
"To be fair, it kind of worked for two or three games, but then once it kind of fizzled out, that little run, he became a bit brutal, to be honest."
4. And he once challenged Connor Wickham to a fight…
Di Canio has always been known for his fiery temper, and Graham opened up on one particularly heated training ground incident that saw him nearly come to blows with the then-teenage Wickham.
He said: "Di Canio at the start, he wasn't too bad. It was more when we went on a bad run, when things weren't going great.
"I remember he did a drill where you play against mannequins, 11v11. Someone crossed a ball in and young Connor Wickham missed his header.
"He [Di Canio] is screaming at him from the sidelines, 'I will fight you' and all this. I'm thinking, 'What? He's a 19-year-old, what are you doing?'. It was mad."
5. The Italian once made his team play a group of his friends on a preseason trip
We're used to seeing one-sided routs in preseason friendlies, but perhaps none as bizarre as this one.
According to Graham, Di Canio once got his Premier League squad to lineup against a group of his mates during a training break in Italy - and the result was pretty conclusive.
"We had a game, just at this local playing field, it was," the forward said.
"It was only against his mates. We're looking over and they're smoking fags and everything, big massive bellies on them. We went, 'That can't be the team we're playing'.
"It was all his mates - it was 13-0 at half-time. I couldn't believe it. He was buzzing as well afterwards. We were 13-0 up at half-time. What were we getting out of that game?"