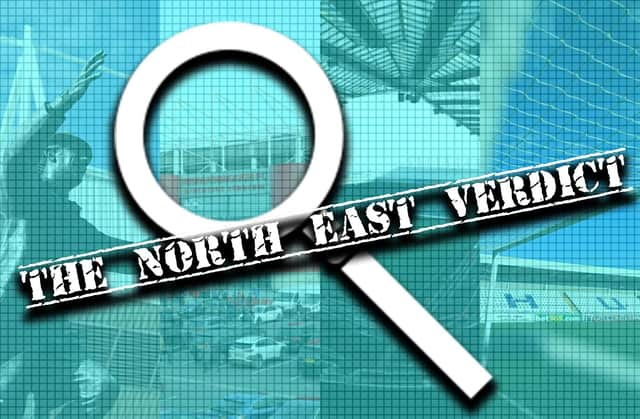 The big topic of the week discussed by our writers from across the North East football scene.
Football is the game we all love, but is it in denial when it comes to COVID-19 and it's likely impact on the 2019/20 season and beyond? Here our Newcastle United, Sunderland, Middlesbrough and Hartlepool United writers tackle the issue...
Richard Mennear – Football Clubs Editor: "Football is a business - and like everyone else - is trying to find a way to best muddle through this crisis."
Is football in denial over coronavirus?
I think the governing bodies, Premier League, EFL and National League - and the clubs themselves - are just struggling to come to terms with the global pandemic that has flipped the world upside down in a matter of weeks - and how best to deal with the fallout.
Clearly the April 30 date is ambitious and won't happen, especially with the scale of coronavirus escalating by the day as we head towards the peak over the coming weeks and months.
It is important, however, to have a clear vision and collective agreement when it comes to how the current campaign is concluded, whenever that may be. There is a will to complete the season.
Football unites people like no other sport and everyone needs a little hope in these unprecedented times.
But there are wider, complex, legal, contractual implications of just ending the season now and declaring it null and void while everything shuts down for months - the wrong call and many clubs could go to the wall, especially the further down the league pyramid you go.
So no, I don't feel football is in denial.
It is an industry, a business at the end of the day - and like everyone else - is trying to find a way to best muddle through this crisis.
The priority though, has to be everyone's safety; staff, players, fans, so it remains to be seen how feasible a compressed end of campaign in June behind-closed-doors will actually be.
The next few weeks will be key. Stay safe. And stay home.
Liam Kennedy – Newcastle United writer: "We're in this for the long haul, whether we like to believe it or not"
Football is a force that can unite, divide, excite, despair – all in equal measure.
It is the national game and is rightly at the forefront of national consciousness 99.9% of the time.
This is a very rare occasion where it is not. But the problem is that football thinks it's still at the party.
While everyone else is rolling down the shutters, there are still some within the game – whether that be players, pundits, fans or decision-makers – that hold hope football will be able to just start up, while everything is crumbling around them, and all will be OK.
June seems to be the consensus. The bit that gets forgotten is that the people who should know about these things – the country's top scientists, medical officers and statisticians – seem to think this is around the time the virus could peak in the UK. Yep, so let's expect 22 players, with a support staff of more than 100, to test negative for COVID-19 – in order to return to training a month prior in May – then stay virus-free, effectively in quarantine, until the first game. This exact sequence must be repeated another nine times – and that's just for one round of fixtures, not nine/ten in the Premier League, for example, as well as cup games.
We are only just starting to realise on these shores just how big an impact this virus is set to have on life as we know it. Already some of our taken-for-granted basic rights have been stripped – I hope you're all enjoying your dictatorial, one designated walk per day – and things are likely to go further.
It is unrealistic to think football, as we know it, will start up in May, June, July even beyond.
Those who seem to be holding out hope this will happen are delusional. It sounds like we are in this for the long haul, whether we like to believe it or not.
Mark Donnelly – Sunderland writer: "Signs of progress"
I'll sit on the fence here. Yes in some regards, no in others.
Had you asked me this question a week ago, I may have given a different answer.
But in that time we've seen a more realistic return date put on the league, and a realisation that in some cases - particularly in non-league - it is not practical or financially prudent to finish the current campaign.
That, for me, is a sign of progress and football waking up to the problems COVID-19 will cause.
But while football is beginning to overcome logistic and scheduling issues, they are still to act properly when it comes to the issues facing those in the midst of the game - the players.
I'm not talking about wages here - although for some in the lower leagues, being asked to take a salary cut could prove a worry. This transcends far beyond money.
In terms of mental health, this will be a testing period for a number of players. To have gone from a regular routine, surrounded by a group of people, to potentially being isolated for a number of months could prove difficult for some.
Nottingham Forest defender Michael Dawson eloquently summed-up the situation during an interview with Sky Sports, and called for the authorities to do more to help players who may be struggling with mental health during this period.
It's all well and good the PFA chiefs reminding players of their helpline, but sometimes it isn't that easy to talk.
Football needs to wake up to the fact that a number of players could be struggling and ensure they are adequately catered for.
Forget schedules and fixture congestion, this should be a far greater concern.
Dominic Scurr – Hartlepool United writer: "Leagues being reactive, rather than proactive"
Football isn't in denial of coronavirus. Like all of us, it simply doesn't have a clue as to what is going to happen. All we have is guesses and theories at this stage.
This has resulted in various sporting bodies taking different routes, at their own pace, in what they deem as the most sensible course of action to preserve the integrity of their respective competitions.
We're starting to see some form of consistency with the postponement of the Olympics and European Championships until 2021 - that seems sensible enough.
Domestically things start to become a bit of a mess. It's apparent that the timeframes given by the Premier League and EFL for an end of April return are completely unrealistic and all it succeeds in is providing false hope.
Things are even worse in non-league football. As there has been no announcement to the contrary, the National League is still officially set to resume on April 3 which will be pretty difficult given the nationwide lockdown.
There's no denial of the outbreak as such, we're just seeing cases of leagues being reactive rather than proactive as they don't want to bit the bullet too early in case it comes back to haunt them.
James Copley – digital sports writer: "Like in 1914, football is way wide of the mark"
Yes. Football is absolutely in denial over the coronavirus outbreak.
This is going to get worse, people are going to become ill, some will die. And, as this crisis deepens, the NHS will need every resource available to it.
The Government won't be able to spare the required ambulance staff or mandatory policing to keep players and staff safe at matches.
For me, the notion of discussing when the current football season will resume and toying with dates is a nonsense given the climate.
Also - consider this: the mental fragility of the players.
They're human, like us. COVID-19 will affect them, their relatives. They will need time to come to terms with the situation and grieve.
Football, as usual, is asking all of the wrong questions. Instead of debating when it can resume, it should be asking how it can help those suffering.
Sadly, just like in 1914 after the outbreak of the First World War, the beautiful game, in Britain is way, way wide of the mark.