'Toxic' - TalkSPORT duo deliver worrying verdict on Newcastle United's fight against Premier League relegation
Former England international Trevor Sinclair believes Newcastle United will join West Bromwich Albion and Sheffield United in the Championship next season.
Wednesday, 10th March 2021, 3:00 pm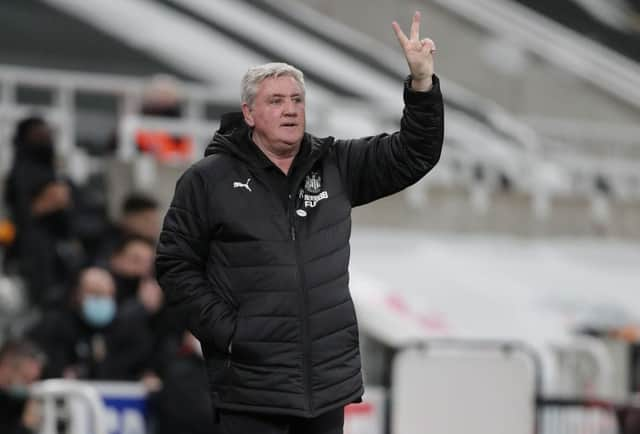 Newcastle United head coach Steve Bruce. (Photo by Richard Sellers - Pool/Getty Images)
Fulham's win at Liverpool on Sunday afternoon has blown the Premier League relegation picture wide open, leaving the Magpies in deep trouble.
Steve Bruce's side, following a run of two wins in their previous 18 matches, are just one point outside the bottom three.
Below United in the table are Brighton and Hove Albion, who are level on points with the 18th-place Cottagers, West Brom and Sheffield United.
The latter two are already being written off by Sinclair, with either Newcastle, Brighton or Fulham viewed as the most likely to claim the final relegation spot.
And Sinclair, appearing as a pundit on talkSPORT, is tipping Bruce and co for the drop – citing the loss of Callum Wilson, despite a suggestion he could return from injury in the next couple of weeks.
Sinclair, when asked who would join the current bottom two in the Championship, said: "Unfortunately, I think it is going to be Newcastle.
"They miss Callum Wilson hugely. I don't know what the exact percentage is but he scores most of their goals. If he's not in the team, I don't see them winning enough games."
Meanwhile, talkSPORT presenter and commentator Alex Crook agreed with Sinclair's prediction due to the 'toxic' atmosphere around St James's Park.
He said: "I thought Fulham all the way until the weekend.
"I thought they had given themselves too much to do but that's a massive result for them, psychologically as well against Liverpool.
"I think you've got say Newcastle now. (They're) not scoring many goals. I'll use that word again 'toxic' atmosphere among their fans. Steve Bruce, clearly, has got some problems in the dressing room.
"It wouldn't surprise me now if they were the team to go down. I would make it one from three, between those three teams (Newcastle, Brighton Fulham).
"I think Burnley have got enough points and Southampton with that win against Sheffield United."
Newcastle host Aston Villa on Friday night hoping to pile pressure on Fulham and Brighton ahead of their weekend games.