'You could bring in Mourinho or Guardiola...' - Outspoken talkSPORT pundit risks sending Newcastle fans 'apoplectic' with latest comments
Outspoken talkSPORT pundit Simon Jordan has claimed that even Jose Mourinho or Pep Guardiola would struggle to bring any success to Newcastle United at the moment.
Published 14th Jan 2021, 17:13 BST

- 2 min read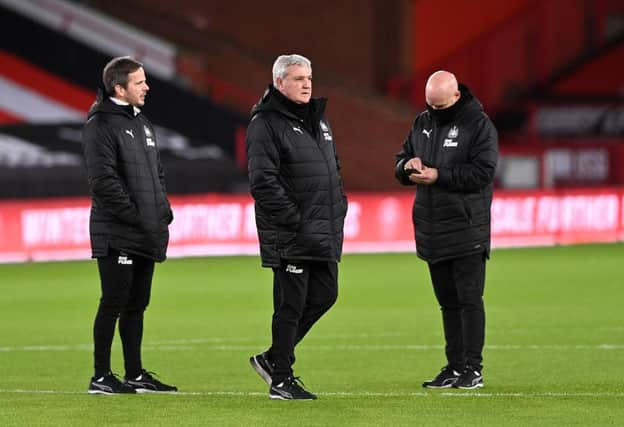 The Magpies currently lie 15th in the Premier League table after Tuesday night's 1-0 defeat to bottom side Sheffield United, and haven't win a game in any competition since they beat West Brom back in mid-December.
But while their recent slump in form has led to heightened pressure on manager Steve Bruce from some sections of the fanbase, Jordan has argued that the Toon boss can't be blamed too heavily for his side's lack of progress this season.
Admitting that his comments could anger supporters on Tyneside, the former Crystal Palace chairman told talkSPORT: "Newcastle are a very strange side because their fans are a phenomenon. It's a phenomenal football club as well, but their expectations, based on their owner's model, is unrealistic.
"You could bring in a [Jose] Mourinho in there or a Pep Guardiola in there and unless they're going to give them the backing to go and spend £50 million, £60 million, £70 million, £80 million in every transfer window Newcastle will remain where they are.
"It's all well and good to say you want to play in a certain way, but you've got to have the personnel to do it."
Focusing in on specific members of Bruce's squad, Jordan added: "It's all well and good saying Dwight Gayle's the answer… he's not the answer. That's why he keeps getting bounced out of teams that get promoted.
"Andy Carroll gets a game last week and misses two sitters. Whatever you haven't got are the reasons you don't achieve something in an individual game.
"Should he [Bruce] be more braver? Possibly. Should he be more expansive in his football? If the personnel he's got allows him to do that.
"He has lost two key components of the Newcastle team which gave him stability? One is [Jamaal] Lascelles that makes their unit at the back more cohesive and one is [Allan] Saint-Maximin that gives them more momentum going forward.
"You take those two out and an average side are going to look even less compelling."
Jordan went on to argue that Mike Ashley's recent level of investment in the transfer market has been acceptable, while also claiming that the Magpies can't hope to make any significant strides in the Premier League until a more money is spent on recruitment.
He said: "You look at Fulham, look at Burnley, look at Sheffield United and you look at Wolves – who are one place above them – and say, okay with due respect to Newcastle fans who are probably going apoplectic now, what exactly do you expect from the investment you're owner puts in?
"Mike Ashley put £35 million into player acquisition during the summer. Given the circumstances the world is in that's probably a reasonable sum.
"Fulham have spent significantly more than that and they lie third bottom – but their fans aren't up in ears.
"Bruce is never going to pass the sniff test with these guys, and I had him as a manager. Brucey would play expansive football if he had the personnel to do it."