SHOCK South Shields announcement as Mariners reveal managerial rejig
Lee Picton has been named as new chief executive of South Shields in a major shake-up at the Northern Premier League club.
Saturday, 7th November 2020, 6:25 pm - 5 min read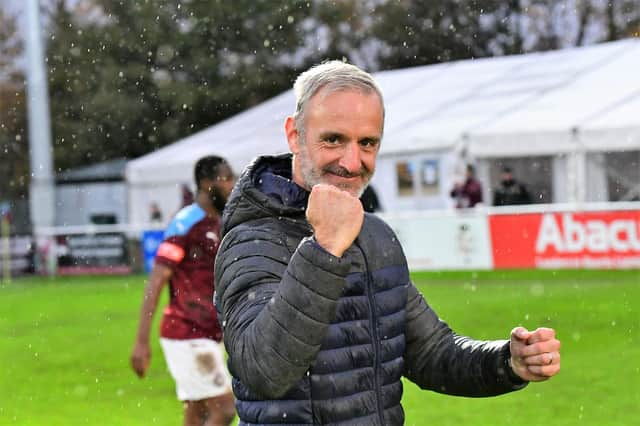 South Shields' Lee Picton (pic via Kev Wilson).
The former FA Vase winner stepped down from his role as Mariners joint-manager in the aftermath of their FA Cup first round defeat at SkyBet League Two club Cheltenham Town.
Graham Fenton will now take sole charge of first-team matters and Mariners captain Jon Shaw will work alongside the former Blackburn Rovers star and coach Brian Smith after he was appointed as assistant manager.
Picton's new role will begin with immediate effect as he takes a lead role in helping guide the off-field matters at the 1st Cloud Arena as the Mariners look to continue their efforts to reach the upper-echelons of the non-league game over the coming seasons.
The full statement released within hours of their FA Cup tie at Cheltenham reads: "Lee Picton has been promoted to the role of Chief Executive and Graham Fenton will take sole charge of the first-team as part of a management restructure at South Shields Football Club.
Lee begins his new role with immediate effect, with Saturday's Emirates FA Cup match at Cheltenham Town to be the final match led by the joint management team.
Jon Shaw becomes Joint Assistant Manager alongside Brian Smith while Keith Finnigan will now operate in his specialist area of finance.
The day-to-day running of the club will be the responsibility of Lee as positive changes are made to facilitate further growth and development at 1st Cloud Arena.
Keith now has an expanded remit after agreeing to join the board of the club's main shirt sponsor, Business Energy Claims, while he also continues to lead a separate property development business.
It was therefore deemed appropriate to narrow his role at the football club, but he will have a pivotal position supporting Lee and club Chairman Geoff Thompson by providing the timely and accurate financial reporting essential for any successful business.
Mr Thompson said: "As part of our ongoing development, we have reviewed our structure and put in place what we feel is the most appropriate management team to move the club forwards.
"I firmly believe Lee is the perfect candidate for this new role and am delighted he has accepted it.
"His expertise, extraordinary knowledge of the game and strong experience of the club and all who work within it are invaluable assets to us and I'm hugely excited to see how South Shields FC will continue to develop in his image.
"I'm equally delighted that Graham has agreed to become Manager, ably assisted by Jon Shaw, Brian Smith and the rest of our outstanding coaching team.
"Graham and Lee have achieved incredible success over the last four years as Joint Managers and I have full confidence that the positive work and upward trajectory will be maintained by our new management team.
"Jon will be a tremendous addition to that as he steps up from his Academy duties and continues his impressive development as a coach, alongside his playing responsibilities.
"Keith Finnigan will remain a key and valued figure operating in his specialist area of finance. His contribution to the club over the last three-and-a-half years has been invaluable and I can't stress enough how important he is within our management team.
"I'm hugely enthused about the future at the club as we look to further our progression with an excellent team behind the scenes both in football and non-football roles all pushing in the same direction to deliver success for our town, our magnificent supporters and our loyal sponsors.
"I firmly believe that the years ahead will be very bright and these changes make me even more confident that will be the case."
Chief Executive Lee Picton said: "Working alongside Graham over the last four seasons as Joint First-Team Managers has been an absolute pleasure and privilege.
"As everyone knows our partnership has been a longstanding one, and although I now move on from it with a heavy heart, I take away with me a multitude of incredible memories and experiences of managing the team together, that I will cherish forever.
"The support Graham has given to me during our time working alongside each other at the club thus far has been fantastic, and I greatly look forward to hopefully many more years of working together but now just in slightly different roles.
"Being asked to take on the role of Chief Executive at our fantastic football club is such an exciting prospect and challenge for me.
"I want to publicly thank Geoff Thompson for his trust in me. I completely appreciate the responsibility that comes with such an important role and I fully intend to give my absolute all in the pursuit of driving the club to yet greater heights, both on and off the pitch, and to build on the tremendous work that Keith Finnigan has carried out and overseen in recent years.
"Undoubtedly, the single biggest thing that fills me with such optimism, hope and motivation in my new role moving forwards, is that our club is awash with great people.
"From our first-team management to our junior section, committee, back office staff, matchday volunteers and incredibly loyal fans and sponsors, we are truly blessed with the people that are tied to our club.
"My job moving forwards is to harness the energy of all these people in the most positive and effective way possible, and if this can be achieved then I truly believe the possibilities for our club are unbelievably exciting."
First-Team Manager Graham Fenton said: "I'm hugely excited to have been given the responsibility of sole management of the first-team and I'd like to thank Geoff for the faith he has shown in me by giving me this role.
"Myself, Jon and Brian will continue the hard work and will of course be aiming to build on the success that the joint management team has enjoyed over the last four years.
"I know the addition of Jon to the first-team coaching staff will be well-received within the dressing room as he is a much-liked and respected member of the squad and as we all know, has huge knowledge and experience within the game.
"Together with Brian, we are hugely enthused by the prospect of working as a team and feel we will compliment each other exceptionally well.
"I'd like to personally wish Lee well in his new role and I know he will do a fantastic job in progressing the club in other areas."
Joint Assistant Manager Jon Shaw said: "I want to thank Graham for the opportunity and asking me to join the management team. I can't wait to get started and help out in any way I can and repay his faith in me to do the job.
"It's an exciting progression in my career which of course is something I am proud and pleased about but as always my focus will be on the club being successful, and I can't wait to get started with Graham, Bri, Phil Naisbett, Andy Morris and all the staff and players in continuing that.
"I'm going to miss the 16-19s job but I'm always going to be thankful for the opportunity I had to come over and work alongside and learn from Wess Brown and Jamie Williams. The 16-19s will still be a big part of my job as we've told those lads to push for first-team shirts and I'll no doubt continue being part of their development through watching them play and coaching them.