South Shields' fans fume with promotion dream in tatters after controversial FA statement
Supporters of league leaders South Shields FC have been left furious after a decision by the FA to end the 2019-20 campaign – and expunge all results.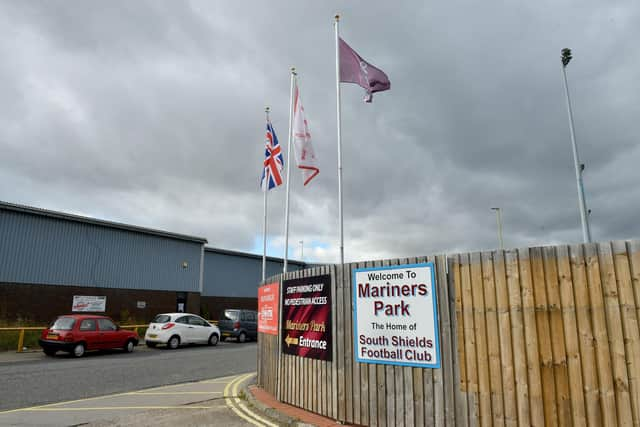 Mariners Park, the home of South Shields FC.
Shields are top of the BetVictor Premier Division table and lead nearest rivals FC United of Manchester by a whopping 12 points but their promotion hopes are now in tatters following the controversial decision.
It has angered supporters, who were quick to react.
Chris Allen tweeted: "Absolute joke" while Mariner Pete added: "Shambles".
Aiden, on Twitter, posted: "Absolutely gutted. A hasty decision and I'm sure they've only made it as it's the easiest decision. Being stuck in this division for another season doesn't excite me at all given we were headed for the National League North! Still renewed my ticket but there we go, shambles."
Fan Graham Wood simply said: "Disgrace" while Rachel MacDonald added: "Absolute joke so it is really feel for our lads all that hard work for nothing basically."
The FA statement read: "The NLS and the women's football pyramid were able to build a consensus amongst their leagues and, where possible, aimed to create a consistent approach across all leagues, whilst taking into account the unique characteristics of each individual league.
"As a result, The FA and NLS steps three to six have reached a consensus that their 2019-20 season will now be brought to an end, and all results will be expunged. This will mean no promotion or relegation of clubs between NLS steps three to six, and no promotion to NLS step two.
"These decisions will also apply to the leagues and clubs who play at NLS step seven.
"We will continue to assist and support the National League (NLS steps one and two) to determine the outcome of its 2019-20 season as quickly as possible. The planned implementation of the restructure of the NLS will also now be deferred until the start of the 2021-22 season."
It added: "Throughout this period we continue to seek guidance in respect of the government's financial support packages relative to COVID-19 and how they are applicable to clubs in the NLS, the women's football pyramid and the wider grassroots game."