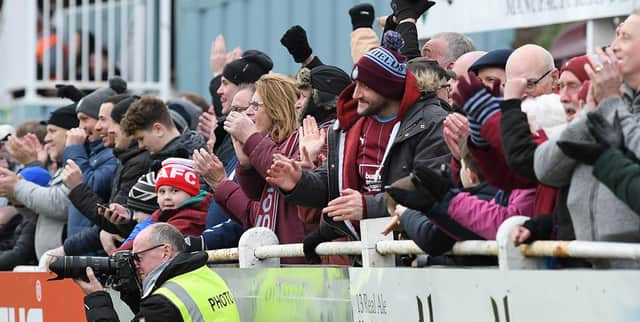 South Shields fans enjoy the game.
The Mariners defeated second-placed FC United 5-3 in a thrilling encounter in front of a crowd of 3,276, which broke the ground's league attendance record.
It was a fully-deserved victory for Lee Picton and Graham Fenton's side, who went ahead in the 21st minute as Jason Gilchrist found the net against his former club.
Shields' first half dominance was rewarded with further goals in the latter stages of the half from Josh Gillies and Gilchrist, and they went into the half-time break with a huge amount of confidence.
FC United responded well in the early stages of the second half and pulled a goal back through the prolific Tunde Owolabi, only for Nathan Lowe to swiftly restore the three-goal advantage with a stunning drive from distance.
The end to the game was more fractured as the Mariners were forced to reshuffle three times because of injuries, with Owolabi adding two further goals to complete his hat-trick and give FC United some hope.
Between those strikes, though, on loan Sunderland ace Bali Mumba netted on his home debut for Shields to seal their victory and again boost their hopes of clinching promotion.
Recent home attendance in the league ranged between 1,500 and 2,000.
Steven Carroll is a Swansea fan who made the trip to Mariners Park for the first time after the Swans' game at Middlesbrough was called off.
He described the game as "a good day out" adding "it's loud, loads of songs".
"We've had a nice welcome," he told the PA news agency. "Loads of fans thanked us for coming.
"It's refreshing when clubs at the top just want your money."
SOUTH SHIELDS: Boney, Baxter, Adams (Thompson 73), Shaw (c) (Ross 59), Verstraaten, Turnbull, Gillies, Briggs, Gilchrist (Mason 68), Lowe, Mumba. Subs not used: Jenkins, Gonzales.
Goals: Gilchrist (21, 45), Gillies (42), Lowe (52), Mumba (89).