South Shields' promotion hopes up in the air as Northern Premier League fixtures suspended after coronavirus pandemic
The Northern Premier League has suspended all fixtures until further notice, leaving South Shields' promotion hopes up in the air.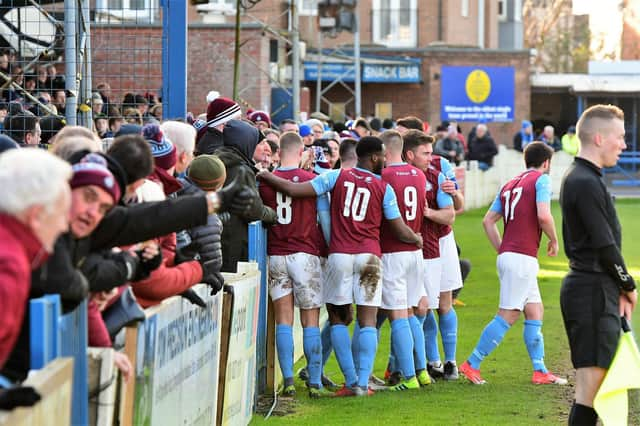 The Northern Premier League has been suspended.
Shields stretched their lead to 12 points after an enthralling, entertaining 5-3 win over closest rivals for automatic promotion, FC United of Manchester on Saturday.
After that impressive win, Graham Fenton admitted it was a very real 'fear' the Mariners will see their National League North promotion hopes go up in smoke due to the coronavirus outbreak.
It has now been confirmed that all fixtures have been suspended until further notice, Shields were due to host Morpeth Town at Mariners Park on Tuesday.
The league say they hope to provide further clarity soon.
A Northern Premier League statement read: "The Northern Premier League has today decided, reluctantly, to suspend all fixtures until further notice in light of the escalating Covid-19 outbreak.
"The League would like to congratulate the players, officials, volunteers and fans of clubs able to stage games at the weekend and notes the excellent attendances at those fixtures. Whilst the primary responsibility of the League is to the financial sustainability of its member clubs, the number of clubs reporting players or officials in self-isolation has now reached a point at which continuing to play games would severely undermine the integrity of the competition.
"In consultation with the partners Eliteform, all NPL Football Academy fixtures have also been suspended until further notice.
"The NPL is well aware that clubs and fans need clarity around whether the 2019/20 season is to be suspended temporarily or permanently, and the full implications of either eventuality. The NPL will be working with the other Alliance Leagues and the Football Association, to assess the various options and to agree a way forward.
"As soon as we are able to, we will share that information with member clubs and their supporters."
Speaking after the game on Saturday, on the prospect of the season being cut short, Fenton said: "It's a worry.
"If you go to the other end of the spectrum and look at Liverpool, who are far further ahead than we are.
"They are in the same situation, so we just get on with it and whatever will be, will be."