'For me that's a foul' - Lee Johnson reacts to Sunderland's draw at Peterborough United
Lee Johnson admitted that a draw was probably a fair result as Aiden McGeady's late free kick earned a point for his Sunderland side against Peterborough United.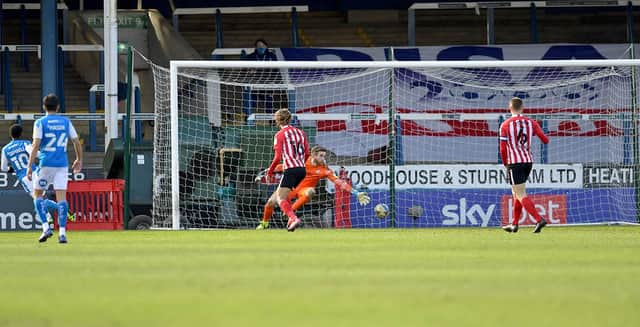 The Black Cats Head Coach nevertheless felt that Siriki Dembele's opening goal should have been ruled out for a foul on Callum McFadzean.
That goal came as Peterborough enjoyed a strong spell in the game and Johnson conceded that at that stage, his side had not made enough of what was otherwise a very promising first-half performance.
Johnson hailed the strength of his bench and the quality of McGeady for rescuing what ultimately could prove to be a crucial point in the race for automatic promotion.
"We went for the win but it's a good goal from 1-0 down with 20 minutes to play," Johnson said.
"We dominated the first half territorially, we played the conditions well, we were composed and calm without quite having the clear chances we wanted.
"That was partly down to their good defending and at the same time, their good chances came from poor areas from our perspective.
"They definitely had a spell before their goal where they took over and that's disappointing for us because generally we see that out well. But, our bench was really strong, probably the strongest it's been since I got here and they showed positive intent when they came on to get into the game quickly.
"At that point, I felt we took over and there were a couple of near misses at the end where we could have won it.I thought we were in the ascendancy after we scored, but both teams were still going for it.
"It's difficult, you can see how hard it is to control the ball on this pitch and that maybe meant our flair players couldn't have that first touch that sets him off.
"We brought Aiden into a central position, partly because of that pitch and partially because of good defending.You leave him on the pitch if he's physically right because you know he's got that in the locker. I'm delighted for him that he's come up trumps.
"I felt if he beat the wall it had a chance, because I see him do it regularly in training when we do the extras.
"He's very consistent with it. If you wanted to place it for a McGeady free kick, that was it. I did believe in him there and I'm glad he produced. I think he knew that was a big chance."
Johnson was asked if a 1-1 draw was a fair reflection of the game and despite his frustration with Peterborough's goal, accepted that it probably was.
"It depends on what set of glasses you wear, I suppose," Johnson said.
"With my Sunderland glasses on I felt their first goal was a foul on Callum McFadzean. There's a ricochet and their player grabs both his left arm and his shoulder and stops Callum competing."For me that's a foul. There was a lot of inconsistency today and there's frustration for both teams there.I suppose you would say from a neutral perspective that a draw was probably a fair result."