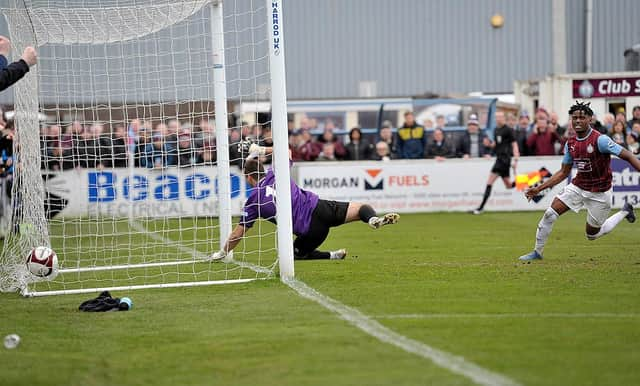 Bali Mumba scores for South Shields.
For 90 minutes, at least, all thoughts of pandemics were forgotten about. Football can do that.
It may be the last time we see a ball being kicked for a while. The Northern Premier League was out of sync with most other leagues around the country and the decision to allow games such as the one at Mariners Park between South Shields and FC United of Manchester to go ahead wasn't met with universal acclaim.
There is a fair chance the government will change their strategy and ban public gatherings over the next few days.
Not that the 3,274 people who crammed into the compact ground seemed too bothered about COVID-19. They were there for the football, and the majority went home delighted with what they had seen as Shields beat their closest title rivals 5-3.
Eight excellent goals and much entertainment. All celebrated both on and off the pitch with no thought of viruses spreading. Players dived on top of each other, hugging and kissing. In the stands, it was the same.
Everyone wanted to be there, bar perhaps FC United in that first 45 minutes. Lethargic, distracted, disorganised, they were fortunate to be just three goals down at the break.
That's not taking anything away from Shields who produced a masterclass in pressing, moving the ball at speed and clinical finishing. They may not have played better this season. If it is to be their last game for a while, they signed out on a high.
Jason Gilchrist came back to haunt his former club with two goals. Inbetween, Josh Gillies was also on target.
The visitors livened up after the break and Tunde Owalabi scored a superb hat-trick, but Shields had enough in the tank and the excellent Nathan Lowe and Sunderland youngster Bali Mumba were on target to seal the win and send the home fans home happy – but only after squashing into the bar to continue the celebrations.
If this is the last football they see for a while, it was a great way to sign off.