'If there's home truths to tell, we'll tell them' - Lee Johnson to weigh up Sunderland changes ahead of Wigan Athletic game
Lee Johnson says he will deliver 'home truths' if required after Sunderland's disappointing defeat to Charlton Athletic, but insists he won't overreact as he weighs up his options for the trip to Wigan.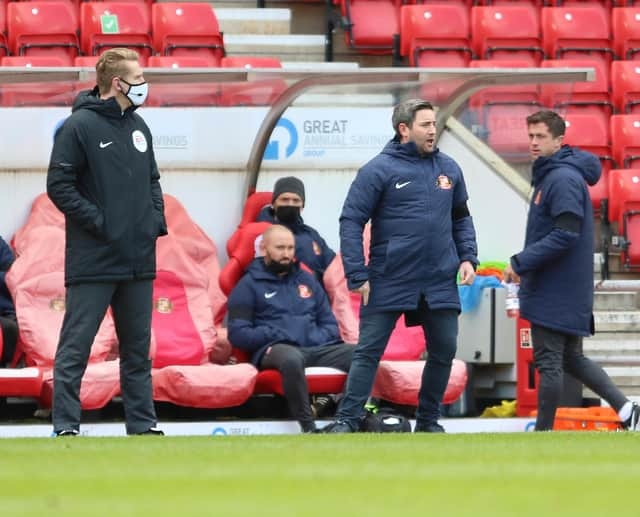 Sunderland head coach Lee Johnson
Sunderland gifted two goals from set plays to their opponents, while Johnson was also left frustrated with the quality of his team's delivery into the box.
The head coach candidly admitted after the game that he helt his side had 'carried' two or three players during the first half, but added that the group must maintain belief that they can win automatic promotion.
He insisted there were elements of their play to build on as a 13-game unbeaten run across all competitions came to an end.
"We've got to continue doing the things that we do well," Johnson said."
"A lot of that was on show today, I really do think that. I know when I go through it objectively I'll see a lot of good stuff, because I can tick that off in my mind's eye now.
"Equally, there are too many fundamentals that weren't good enough. Sometimes that's obviously the positive play of the opponent, too.
"We've got to believe ourselves and not get too disappointed. I don't think the lads will be, we're good at affirming the positive parts of the play.
"Picking the team is obviously going to be a big one for Tuesday, you've got to tick the boxes to get the balance right.
"We'll definitely be honest [with the players], you don't want to drown players in their weaknesses and build up their strengths, we're consistent in that," he added.
"But we'll also be honest and if there's home truths to tell, we'll tell them because the players have got to improve.
"It's not just a one game, one action process, it's a process to try and improve this club over a long period of time."
Jordan Jones is likely to come into contention for a start for Tuesday night's game, while Bailey Wright is expected to step up his comeback in an U23 fixture on Monday afternoon.
Wigan boosted their survival hopes with an emphatic 4-1 win away at Doncaster Rovers on Saturday.