Lee Johnson has this message for his Sunderland squad
Lee Johnson has urged his Sunderland side to ensure they 'thrive in the uncertainty' – with more twists and turns expected in the League One season.
Sunderland have played just once in the last 20 days and face another free weekend after Saturday's clash with Fleetwood Town was postponed.
They are far from the only club affected, either, with a host of fixtures over the festive period falling victim to postponements.
And with a fresh round of COVID-19 testing across League One set to take place in the early part of this week, further games across the division could yet be rearranged if positive cases are detected.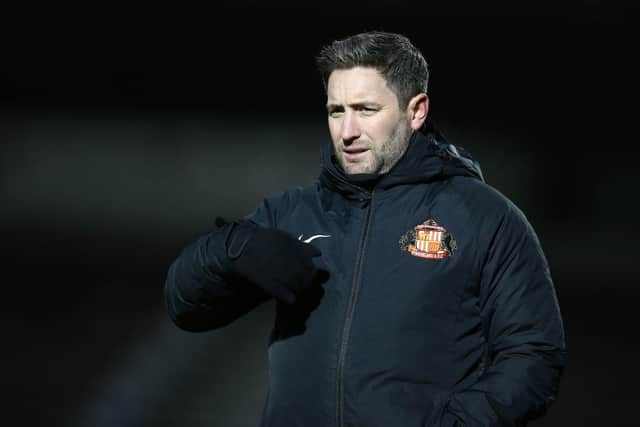 The Black Cats have already had their fair share off issues to contend with after a coronavirus outbreak at the Academy of Light over Christmas, which left the club's head coach with mixed reactions after their underwhelming return to action at Northampton Town.
But given the uncertainty in the third tier looks set to continue for the foreseeable future, Johnson has urged his side not to get bogged down in excuses and to maintain their belief – even if the circumstances become trying.
"It's the thriving in the uncertainty that is the key," he said.
"In one sense, I was proud of them today [at Northampton]. In one sense, I was frustrated.
"I feel like we need to continue the form we showed at Lincoln. The team we played today, bar one, was the same, and at that point your thinking, 'Right, there's something to build on'.
"But in fairness, there's been a lot that's gone on in between. You can't have excuses though. We've got to believe when no one else does. That cause has to be created from within."
Johnson was set to consult the data from the draw at Northampton Town before deciding on his plans for training this week – with the Wearsiders currently without a fixture until their Papa John's Trophy clash with Port Vale on January 12.
The Sunderland boss already has some preliminary thoughts about the side that may face the Valiants in the knockout clash, with the Black Cats keen to progress in the competition.
And the head coach was keen to ensure his players were physically catered for ahead of that game – leaving him with a decision to make over how to best utilise the club's week away from action.
"We have to look after them and make sure we do everything right," he added.
"We've got to look after them physically. I could go both ways. I could have a physical week to make sure we catch up what we've lost, or we could go gentle and build gradually into that Port Vale.
"There's a couple I'd like to have a look at in that game, but I still want to win the match. There's a couple probably deserve an opportunity, although there were a couple on the bench today that struggled badly with the Covid so probably didn't have any more than 20 minutes in them at best."