Lee Johnson has this message for his Sunderland squad as they reach Wembley
Lee Johnson said his players deserved 'massive credit' to come through a tough contest against Lincoln City to book their place at Wembley.
Sunderland were up against it when Anthony Scully gave his side an early lead; with Bailey Wright having to be replaced at half-time with injury.
That left the Black Cats with no recognised centre-halves on the pitch, but the introduction of Chris Maguire and Jack Diamond helped them threaten at the other end.
The familiar combination of Aiden McGeady and Charlie Wyke brought them level and a faultless penalty shootout secured their place in the Papa John's Trophy final.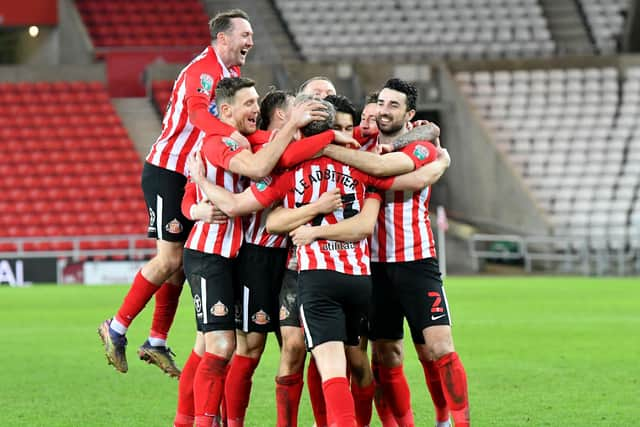 "I think it was a tired game," Johnson said.
"I thought it was one where both sides looked like they wanted to win it but looked tired.
"We know how dangerous Lincoln are both in open play and from the counter attack. I thought first 30 minutes they were probably the better side and it was difficult for us to apply pressure.
"We managed to tweak it a bit with fifteen to go and I think that helped, getting McGeady on the front foot and our midfielders man for man.
"Suddenly then we had good territory even if there weren't too many chances.
"Massive credit has to go to the lads because it's still quite a heavy pitch. After a run of games and a big performance on Saturday, to get through to the final is massive."
Sunderland had been dominated against Doncaster Rovers at the weekend but this was a tougher contest and Johnson said Sunderland had to show their resilience.
"You know who you're playing, you know there's a place at Wembley on the line," he said.
"I just thought it was a really tough game and you'd expect that. You've got to win football matches and we've done that today based on good penalty taking and probably the consistency and quality we were able to show in the last fifteen minutes of each half.
"Grant must have taken about 20 minutes with that penalty! It did no good for my blood pressure but what a great penalty.
"I'm just really happy for everybody, it's going to be a really tough game but we've given ourselves a chance at winning silverware."