Lee Johnson has this optimistic message for Sunderland fans after Wembley win
Lee Johnson spoke of his pride at putting a trophy in the cabinet for Sunderland's long-suffering supporters at Wembley and said that now is the time for the club to kick on and get back to where it belongs.
The Black Cats ended a 48-year wait for a win at the national stadium as they edged past Tranmere Rovers in a tense and hard-fought final.
Though the occasion was a bittersweet one as fans had to watch the hoodoo end from home, Johnson said his players had felt the power of the club's support.
"It feels amazing," Johnson said.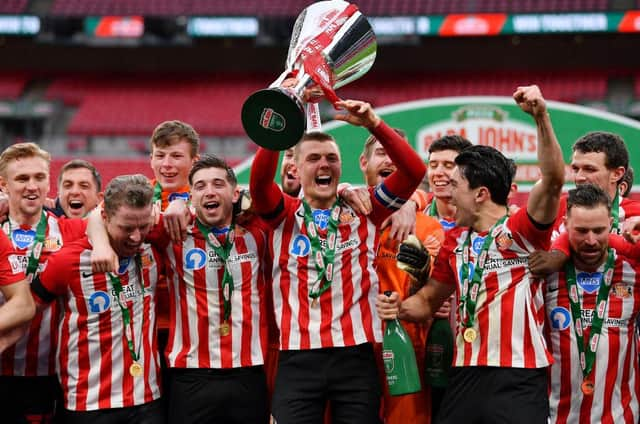 "I'm so proud of everyone and so happy for the fans its been a long time coming.
"Those boys deserved it. We had six or seven players in the stand who couldn't play creating an atmosphere for us, and they were energised by the messages from supporters at home.
"We miss the fans in terms of, I've not been able to have that close interaction with them yet.
"But even then you can feel the power and velocity of the club.
"We say if we can get it right and be aligned across the club, we know it can be so powerful.
"This is a little step along the ladder in terms of building that relationship.
"I know how much heartache they've had over the years and we are so pleased to be able to give something back.
"All that effort, all that money spent, all the history through the families, the ribbing form other clubs, the difficult moments.
"Hopefully this is the start of our journey looking up."
The win was driven by academy graduates, with Lynden Gooch scoring an excellent goal and Jack Diamond providing a vital cameo from the bench as he drove forward to relieve pressure in the closing stages.
Johnson and the club's new regime have put the academy pathway at the heart of their plan moving forward and this was an early vindication for the Head Coach who has insisted he would be 'bold' in his tenure.
"It's great and there's got to be a pathway at the club.
"They've to be good enough and it should be a heavy shirt to wear because we need to be quality.
"With our development and our recruitment we've really got to step it up now.
"We've really got to kick on to compete with teams, to get to where we want to be and what we believe is our rightful place."
26 managers have been and gone since Bob Stokoe oversaw victory against Leeds United in 1973, and Johnson spoke of his gratitude at being given the chance to win silverware at the club.
"My first feeling is one of gratitude," Johnson said.
"I'm so grateful to be given the opportunity at this wonderful club.
"The staff and players have welcomed me and been receptive of what I've asked them to do.
"I'm so greatful to be the custodian and happy to be a small part of putting a trophy in the cabinet.
"History is important for a club like us and we've written a small part of that today."