Lynden Gooch the hero as Sunderland beat Tranmere Rovers 1-0 in Wembley Papa John's Trophy final
We should have known it would be this way.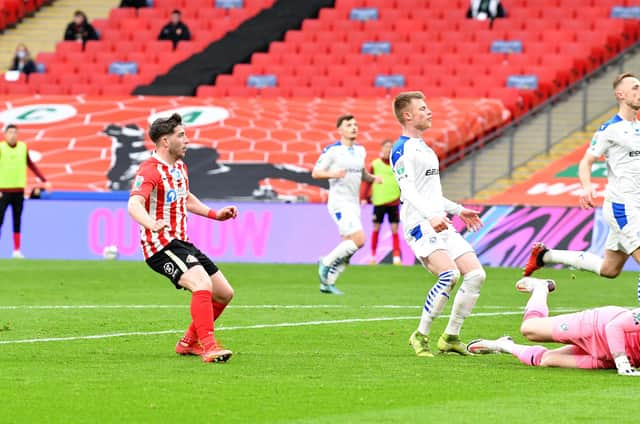 Lynden Gooch fires Sunderland into the lead at Wembley
That when Sunderland won at Wembley, it would be an afternoon when they shredded nerves all over Wearside and left you watching the final stages between your fingertips.
But here's the thing: win at Wembley they did.
They did so because an academy graduate, who moved to this little corner of the world from California of all places and made it his own raced through on goal and held his nerve for what must have felt like an eternity as the ball across him.
Sunderland Echo coverage supported by SafeSeal
Into the roof of the net it went and even on this strangest of days, it was a moment.
He has seen and felt it all with us.
Two relegations. Manager after manager. Failed ownership regimes. Two more heartbreaks at the national stadium thrown in for good measure.
Yes it was behind closed doors and yes it's only the Papa John's Trophy.
But say it again: Sunderland won at Wembley.
They had begun this afternoon brightly enough, neat and composed in the opening minutes as they took control of possession in the Tranmere Rovers half.
Key partnerships from that impressive win over Portsmouth had been disrupted but to begin with, there was little sign of any major issues. It wouldn't always feel like that, of that you can be sure.
Tranmere Rovers, though, had come into the contest in good form of their own and after coming through that initial spell of pressure, they began to enjoy some promising moments of their own.
Lee Burge had to be alert quarter of an hour in when an effort was deflected high towards his goal, the goalkeeper doing well to stop the ball dropping over his line as he made the save.
An opportunistic break from Sunderland forged their first real opening moments later, Maguire fired just wide of the far post from distance.
It was a reminder of their threat but for the most part Tranmere looked not just comfortable but to an extent in the ascendancy.
The Black Cats looked nervous defending their own box and Keith Hill's side were organised.
The experience of Jay Spearing in midfield was allowing them to win possession with Sunderland out of shape, and in Kieron Morris and Liam Feeney they had the craft and power to turn that into a dangerous transition.
Johnson's side were fortunate that that Danny Lloyd could only nod a free header tamely towards Burge just before the half hour mark, and that up until that point they had not done more with their openings.
Sunderland had also been forced to deal with a number of frustrating stoppages, players taking knocks in what proved to a bruising encounter.
At one stage, they half two set pieces in threatening positions but had to take them with Charlie Wyke off the field receiving treatment.
They did close when Maguire saw an effort deflected inches wide, while Max Power then could have done better when he headed a swirling cross at the back post into the ground and over the bar.
A challenging half presented another hurdle when Tom Flanagan was forced off with injury.
The break came at a good time for Sunderland, but Tranmere created their best chance yet moments into the second half, Khan doing superbly to surge from right back past both Maguire and O'Nien. He looked certain to score but his firm effort was palmed clear superbly by Burge.
That warning seemed to finally spark Sunderland into life, and they should have had a goal of their own when Wyke was just unable to meet McGeady's low cross from the byline.
McGeady's growing role in the game reflected the Black Cats finding a rhythm, when so often in the first half he had been forced to defend close to his own box.
It was little surprise that the Irishman broke the game open with a moment of magic to match his contribution on this turf two years ago.
This time it was with an assist, spinning away from his marker and driving through the middle of the pitch when Tranmere expected him to break wide. The defensive line was disrupted as a result and the through ball inch perfect.
Gooch had been quiet in the game up until that moment but when the pressure was on, his composure was flawless.
Resisting the urge to take a touch, he let the ball run across his body before firing the ball into the roof of the net.
Even in an empty Wembley, the relief was palpable.
What followed was for Sunderland supporters all over the world, utter agony.
The Black Cats actually came close to a second when substitute McLaughlin flicked a free kick onto the bar, but either side of that was a sustained siege of their box from Tranmere.
It was a spirited response from Hill's side, and time and time again they fired dangerous balls into the heart of the area.
Sunderland threw bodies everywhere, the panic on the pitch belying the stillness of the ground elsewhere.
Even deep in the bowels of the national stadium, you could hear the muffled prayers and feel the nervous energy from anyone remotely red-and-white.
To their credit, the Black Cats found a footing.
Jack Diamond carried the ball upfield over and over again to relieve the pressure and when the pressure was on, a defence led by Luke O'Nien found a way to clear their lines.
The whistle went and all of a sudden here were are, Sunderland finally winning at Wembley.
Go on, say it to yourself one more time.
Sunderland won at Wembley.
Sunderland XI: Burge; Power, Flanagan (McLaughlin, 44), O'Nien, McFadzean; Scowen, Leadbitter; Gooch, Maguire (Diamond, 62), McGeady; Wyke
Subs: Kimpioka, Matthews, Diamond, Neil, Stewart, Younger
Tranmere Rovers XI: Davies; Khan, Clarke, Ray, MacDonald; Morris (Burton, , Spearing, Lewis (Blackett-Taylor, 64); Feeney, Woolery, Lloyd (Nugent, 64)
Subs: Ridehalgh, Monthe, Blackett-Taylor, Murphy, Kirby, Burton, Nugent
Bookings: Power, 90