Max Power challenges Sunderland to rediscover their winning formula at Hull City
Max Power admits the top two is now highly unlikely for Sunderland – but has challenged the side to rediscover their 'winning formula' ahead of the potential play-off campaign.
Published 19th Apr 2021, 06:00 BST

- 2 min read
Updated 19th Apr 2021, 12:36 BST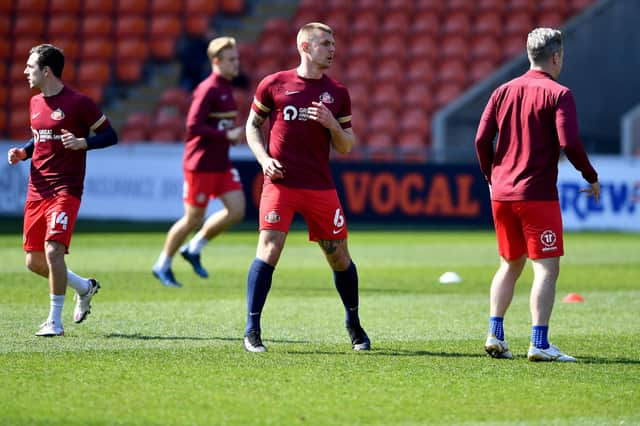 Defeat at Blackpool on Saturday means the Black Cats look set to miss out on automatic promotion, with the gap to second placed Peterborough United now eight points with just five games left to play.
But the end of season play-offs remain a possibility for Lee Johnson's side, who still sit third in the table ahead of their visit to table-topping Hull City on Tuesday evening.
And after three successive defeats, Power has challenged the side to get back to winning ways as soon as possible – so that they can enter the play-offs with some momentum behind them.
"That's why it's important that we find that winning formula again," he admitted.
"We've not become a bad side overnight and I think if you look at the three games it's moments in games.
"A lot will be made of what's gone on and rightly so. There will be anger, there will be a sadness of what may have been, but for me now it's important that we try and rally the squad.
"It was a sickener today because I thought for large periods of that game we controlled it. We created a lot of opportunities and the keeper has made a good few saves for them. I don't think Burgey has had much to do all game.
"We hit the post one end, they've not been in our half in the second half and we're controlling the game well, a break away and then a bit of scramble of legs and it's in the back of our net - without them really having to work hard for the goal.
"Obviously that's very disappointing. I think what's important now is that we need to get a result as quickly as possible, in terms of setting it up for the end of the season.
"It doesn't take a genius to work out now it's going to be real difficult to get automatic. That's not me being negative, that's me being realistic and what's important now is that we try and get our performances ready to end the season and see what comes."
So how can Sunderland get back to winning ways?
The performance at Blackpool was far from dire, and Power doesn't believe that any radical overhauls are needed – simply feeling it is just the small moments in games that are costing the Black Cats at present.
"It's a case of just believing in what you do and not coming away from the things we do well," he said.
"Can we tidy up again and get back to keeping clean sheets? I don't think today was through lack of trying or lack of endeavour, it was just a moment in the game.
"Like I said, I don't think Burgey had a real save to make all day, maybe a free-kick, but from open play we were pretty secure and controlled the game for large period.
"It's disappointing but there's nothing more I can say in terms of we have to now try and turn that frame of mind and get a result on Tuesday at Hull.