Oxford boss claims half-time tunnel 'headbutt' incident will be reported to police after Sunderland win 3-1
A remarkable row broke out after Sunderland's 3-1 win over Oxford United, with boss Karl Robinson claiming that he would be seeking to involve the police regarding allegations of a half-time scuffle in the Stadium of Light tunnel.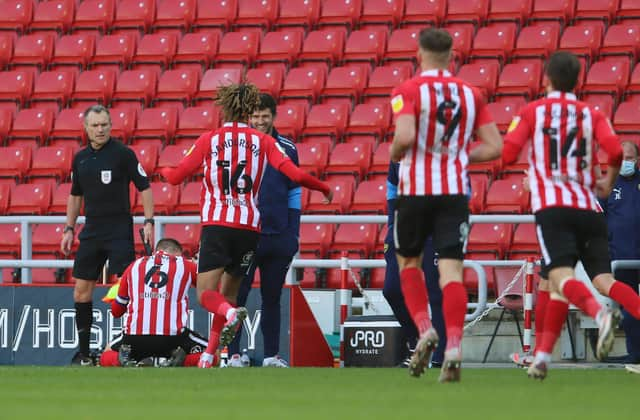 Robinson alleged that his goalkeeper Jack Stevens was headbutted during the incident, with tempers flaring again at the full-time whistle following Max Power's late goal.
Robinson himself was shown a red card for abusing referee Trevor Kettle after Aiden McGeady put Sunderland 2-0 ahead.
Sunderland Head Coach Lee Johnson said he wanted to draw a line under the incident and insisted that there was more to the story than initially suggested by the Oxford manager.
"He's (Robinson) got to be careful, I'll tell you that," Johnson said.
"When it comes to the narrative of any argument, there are always two sides to any story. Let me tell you, there was a lot of Oxford staff that didn't come out of it smelling of roses, let's just say that.
"I didn't see the first incident (at half-time), but I saw the second one [at full-time] and, for me, it was really stepping over the mark. So, I think there's a bit of deflection in there from a few people.
"I want to draw a line under it now. For me, it's a man's game and we'll crack on. It's up to anybody else what they do, but I would be careful throwing out some of the things that I've heard."
Johnson had said earlier in his post-match interview that the incident was 'not worth blowing out of proportion'.
"I'm not going Arsene Wenger on you but I didn't see the incident at half time, I was in the toilet and then wondering where everyone was," he said.
"That's probably a good thing as I can get a bit scrappy-doo!
"I think it happens all the time, especially in a condensed area, it's handbags a lot of it.
"It happened at the end as well and I think that one was provoked if I'm honest.
"Listen as a football club I want us to act with class but I also want us to look after each other and we had to do that today.
"There was an incident that wasn't great to see but it's not worth being blown out of proportion because not a lot happened."
Robinson had said: "We have asked the police to come. Their players have seen it, our players have seen it. My player certainly felt it. But for some unknown reason there is no footage. Ironic here, isn't it.
"My goalkeeper, he was headbutted at half time, there was a massive brawl in there.
"I think there was just handbags. I walked in at half time, quite calm. I was calm for large parts of the game."
Referee Trevor Kettle took no action at the time of the incident, and it is not yet clear what he will include in his post-match report.
Sunderland remain three points off top after the game.
The Echo has contacted the police regarding the allegations.