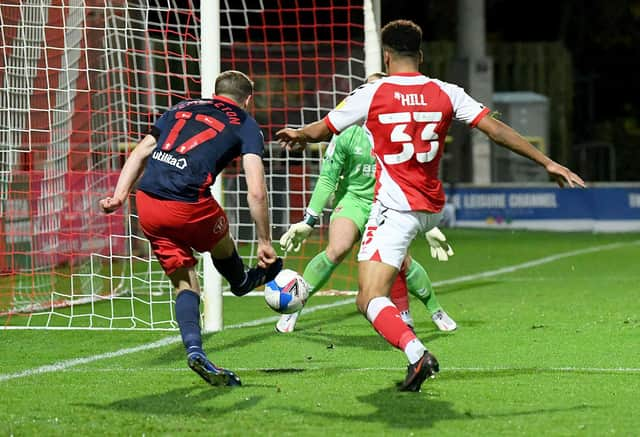 Elliot Embleton strikes the post against Fleetwood
Parkinson handed out six debuts over the course of the 90 minutes, while more established youngsters such as Dan Neil and Elliot Embleton shone in a dominant first-half display.
The Black Cats hit the woodwork three times in the first half, and should have been far further ahead in the contest.
Three defensive injuries derailed them in the second, allowing experienced campaigners Barrie McKay and Mark Duffy to secure the win for Joey Barton's side.
It means Sunderland finished second in the group, and will play their first knockout game away from home.
Despite that, the Black Cats boss said the game had been an 'excellent' exercise.
"The first 45 was excellent," he said.
"I was so pleased with the way we played, there were so many positives.
"The injuries have just derailed us a bit, and meant that some of the lads we wanted to bring off to protect them have had to stay on.
"We just became a bit disjointed but I don't want to take from what were some very, very good performances both individually and collectively in the first half.
"We've hit the woodwork three times and should be out of sight.
"It was an excellent exercise for us in a competition we'd already secured progression from.
2I'm taking great heart from some of those performances.
"There's lessons to learn, as well.
"At the start of the second half there was always going to be a response from Fleetwood, and we became a little bit slower on the ball than we had been.
"In general, I just think we lost our way in that period where we have had to constantly reshuffle the pack."
Parkinson was able to give 90 minutes to Elliot Embleton, who made his comeback in the latter stages of the 1-0 defeat to Mansfield Town on Saturday.
It was a major hurdle cleared for the talented 21-year-old, who had been sidelined for almost a year with hamstring and thigh injuries.
The attacking midfielder was unfortunate to get on the scoresheet.
He was one of the players to strike the woodwork in the first half, starting and ending a superb move down the left that involved Dan Neil and Callum McFadzean.
He was also heavily involved with another of those narrow misses, his wicked free-kick turned onto the crossbar by a Fleetwood defender.
Embleton tired in the latter stages but Parkinson hailed a significant step forward.
"We wanted to get Elliot through 90 minutes tonight," Parkinson said.
"Psychologically, that was huge for him. Even the last ten or 15 minutes chasing a goal, I just wanted him to get through to the whistle. He's been out a hell of a long time and you can't hide away from that.
"I can't remember the last time he completed 90 minutes. It was a long time ago, but he's a terrific talent and was unlucky not to score in the first half when he hit the post."