Phil Parkinson slams timewasting Bristol Rovers as Sunderland drop points
Phil Parkinson bemoaned Sunderland's slow start against Bristol Rovers, but was also left frustrated with the timewasting from Ben Garner's side.
An error from Lee Burge allowed Rovers to take a 1-0 lead from a Luke Leahy penalty, before Sunderland battled back to earn a point through Chris Maguire's equaliser.
Rovers took plenty of time out the game as they looked to defend their game, while Parkinson also felt his side had become 'too frantic' in the moments after Leahy's goal.
"It was a terrible start for us," Parkinson said.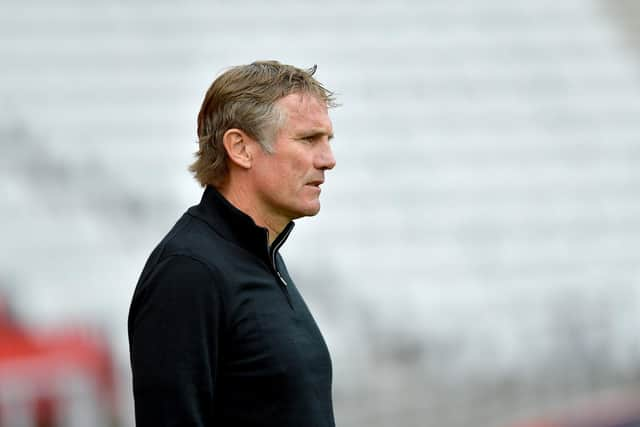 "We couldn't have started any worse, against a team that just came to time waste.
"Obviously that is exacerbated by the fact that we don't really know what the rule is about the ball boys. Sometimes you were allowed to get a ball quickly, sometimes you weren't.
"The goalkeeper was holding on to the ball for ages. I thought the start was terrible and we became a bit frantic after that, but once we got into our rhythm and started playing, we got better and better as the game wore on.
"In the second half, we completely dominated the game, and should have won it comfortably. We got the goal, but also had several other chances.
"There was some poor finishing, but also some good goalkeeping, and obviously the save from Max's shot has kept them in the game," he added.
"I don't think we could have done much more in the second half in terms of the way we played.
"Obviously, the final moment of quality needs to be better because with the amount of dominance we had, we should really have been out of sight."
Parkinson wants his side to maintain their composure in future and felt his side had improved as the contest wore on.
"In terms of it being a poor start, we gave a free-kick away and didn't deal with it, and then gave away a soft penalty," he said.
"It wasn't as if for 15 minutes we were on the back foot and Bristol were moving the ball around and causing us problems. It was just that one minute of not dealing with the free-kick set us back.
"I think it created a frantic 15 minutes where we were too hurried on the ball and we didn't play with that element of calmness. But as the half wore on, we got better and better and started moving the ball. We got in some great positions, and we just needed to continue that and improve on it in the second period, and I felt we did.
"The main thing today was not being clinical enough with that final pass, the quality of the cross or the finish," he added.
"It was a combination of us not showing enough quality in those areas, and the opposition defending well and the goalkeeper producing one fantastic save in particular. Irrespective of the shape of the team, it's about when we get in those areas, can we produce? And I'm sure that we can."