Sunderland and Wolves suffer major injury blow with Dion Sanderson out for season
Lee Johnson has confirmed that Dion Sanderson is unlikely to play again this season as he faces six weeks on the sidelines.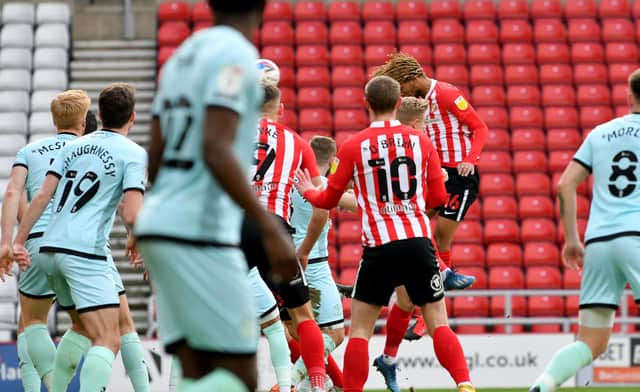 Dion Sanderson has made a major impact at Sunderland
The 21-year-old returned to Wolves last week to undergo scans on a back problem that has kept him out of Sunderland s recent fixtures.
Sanderson had been clear that he wished to return to Wearside to play his part in a promotion push but Johnson has conceded that it is now unlikely.
It is a major blow to Sunderland's hopes of reaching the Championship, with Johnson paying tribute to a defender with a 'bright future' in the game.
The Head Coach says it is his challenge to ensure it does not derail the rest of the campaign.
"Dion will be out for six weeks," Johnson said.
"He's a good personality and a great kid first and foremost, but the bit that most impressed me was how he stepped up in the leadership and communications skills areas, which shows he has a bright future."
"It's a big blow, but I don't think about those types of things in that way.
"I look at it as a challenge – otherwise its woe is me – and it's not about me, it's about the team and giving someone an opportunity or adjusting it."
Johnson is hopeful that his options for a potential play-off campaign could be boosted by the return of experienced defenders Conor McLaughlin and Tom Flanagan.
McLaughlin recently underwent a second hernia operation, while Flanagan has been recovering from a foot issue that led to a number of muscle problems in his left side.
Johnson's options had already been seriously depleted by long-term injuries to Arbenit Xhemajli and Jordan Willis, while Bailey Wright has only recently returned from two months out with a calf tear.
"If all goes well, I would expect Conor McLaughlin to be in and about the build-up to the Northampton game," he said.
"With Flanno, you might be chasing it if you had him available for that game – but he might be, and we might have to chase it depending on circumstances over the next couple of games."