Sunderland boss fires Championship play-off warning after FA Cup exit to Fulham
Sunderland were last night knocked out of the FA Cup by Fulham, the Premier League side going through after a 3-2 win at the Stadium of Light. Here are the latest SAFC headlines.
"We've got to get through these last 17 league games with a pretty thin squad, and there will be days where people have to play out of position," Mowbray said.
"That was the case for us tonight, we had to bring Dan Neil off because if he gets injured, who plays holding midfield? We needed to look after him, Patrick Roberts, because they're really important players for us.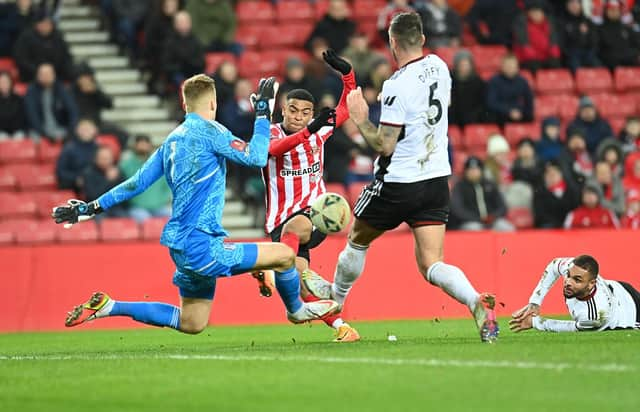 "We've got some good players. I've said that over the course of the season. This window was a bit frustrating on the last day, but we've got some really talented players and the recruitment department deserves huge credit. To have Patrick Roberts, Jack Clarke and Amad Diallo at this football club is a huge credit. Aji Alese, Dennis Cirkin – some really super young players.
"If we can keep that [adding talent] over the next few windows, then we're going to be a strong team that will have an ambition of getting out of this league.
"With 17 games to go, we have an ambition still because we're in touching distance, but the reality is that we're very short on numbers and do not have a deep squad. I think you're going to have to go into the squad with these games because in the next couple of weeks, we have midweek matches. We've got to go Saturday-Tuesday."
Fulham boss praises Sunderland
Fulham boss Marco Silva said his side deserved their place in the FA Cup fifth round but praised Sunderland for their belief in pushing the Premier League side all the way across the two ties.
"First of all, congratulations to Sunderland because they made it hard for us," Silva said.
"I thought from the first minutes we were the better team on the pitch, in some moments we played a little bit slower than we like but we created more dangerous moments.
"We scored early and in the first 30 minutes, I think we created enough chances to score another goal.
"I made two changes because in the last fifteen minutes of the half, I think we lost a bit of our shape and our first pressure was not as good as it should be. I thought we improved off the ball after that, and we scored the second goal. Luke [Harris] started the game because he showed me in training that he was ready. It wasn't because he was playing badly, it was because I expected a reaction from Sunderland and I felt we needed a bit more maturity on the pitch."