Sunderland boss has clear message on timewasting and defensive tactics - but calls for added-time rule change
Tony Mowbray says it is up to his Sunderland side to find a way through opponents who defend deep and take time out of the game - but the head coach believes it is time to find a new way to settle how much added time is played.
Published 12th Feb 2023, 09:27 GMT

- 2 min read
Reading almost took a point from what was an often frustrating afternoon at the Stadium of Light before Patrick Roberts struck late to lift his side to seventh in the Championship.
Incredibly, just two minutes of stoppage time were awarded at the end of a first half in which it was regularly taking an extended amount of time for set pieces to be taken.
Four minutes of added time were then added at the end of the second half and while that did by this stage suit Sunderland, it would have been very different had they been chasing the game.
Mowbray had raised the very issue after the FA Cup defeat to Fulham in midweek and says he is frustrated with the lack of consistency from game to game.
"I've found it [to be an opposition tactic] since I've been here, to try and slow it down, disengage the crowd, take time over goal kicks and free kicks," Mowbray said.
"In our dressing room, we talk about playing fast, pressing, winning tackles and getting the crowd involved. So why wouldn't they do the opposite? There's nothing in the rules that says you can't.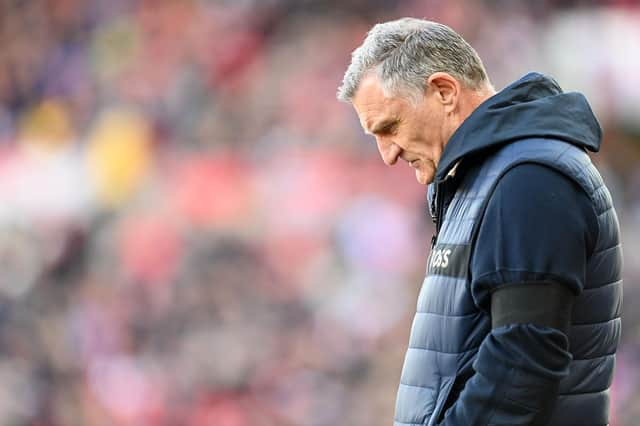 "But I genuinely feel that the timing [added time] aspect of it needs taking out of the officials hands. I don't know how you'd do it because it would be a pretty strange job [to have]. At some stage it needs to be better than a fourth official guessing how long the substitutes took and how many injuries there were. I said it the other night after Fulham, when they put four minutes up when there had been ten subs and four goals in the second half, the physio was on twice. How? It's guessing and there needs to be someone else who decides."
Mowbray said his side were prepared for a difficult afternoon at the Stadium of Light, and was disappointed they didn't offer more in possession.
However, he felt a challenging week played its part in a jaded display, and was full of praise for his team as they kept their unlikely tilt at the top-six alive.
"There's no rules to say you have to play a certain way," Mowbray said.
"They probably weren't happy with the way we were eulogised for one of the goals we scored down there and they probably wanted to put the record straight. Paul is a winner and he has that fire in his belly - I knew his team were going to come and be really tough to break down, be physical and on the front foot.
"We could have been better with the ball and got through them better, but we're very happy with the points. We're still just accumulating points, ticking it along, and hopefully when the games get into single figures you're still in the fight. We just have to keep going."