Sunderland boss Lee Johnson slams first-half display against Crewe Alexandra
Lee Johnson hailed a 'wonderful point' for Sunderland but delivered a scatching assessment of their first-half display against Crewe Alexandra.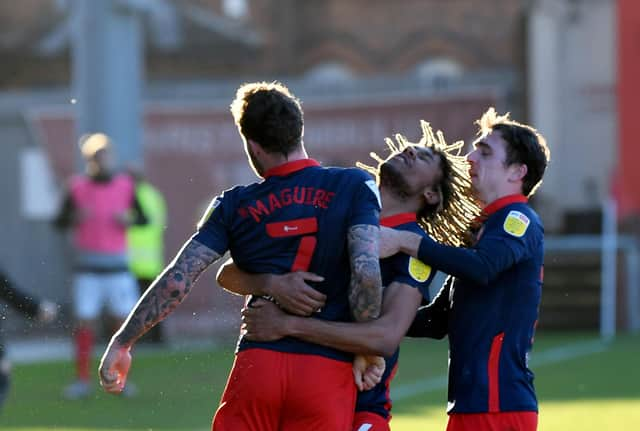 Sunderland celebrate Chris Maguire's late goal
The Black Cats looked to be heading for defeat when goals from Chris Porter and Tom Lowery gave David Artell's side a fully deserved two-goal advantage at the break.
A woeful Sunderland effort left the Black Cats Head Coach giving serious consideration to making five substitutions at the break.
In the end he resisted, but introduce four players from his bench just fifteen minutes into the second half.
The changes proved key, with Jordan Jones and Chris Maguire scoring outstanding goals to rescue what could be a valuable point.
Johnson said his side's struggles in the game meant they had to go more direct in the latter stages and he felt they were ultimately rewarded for their positivity.
"It's a wonderful point won by two bits of individual brilliance," Johnson said.
"Both of those goals you'd expect to be in the top ten goals of the season.
"We needed it because in the first half, it was tough to watch.I can't give you an answer why, whether it's the number of games back to back, maybe I've got to look at myself and say, was this the one to make five or six changes?
"What upset me most in the first half was the lack of enthusiasm. Where does that come from? The team energy, the attitude to receive the ball, the body language, the communication and the interplay that we just didn't have.
We had no service into Charlie Wyke, we were static, the press was laboured and slow.
"At our best we're like the red arrows flying across Wyke but there was none of that," he added.
"We were outfought in the first half. It was a hard half-time team talk. I was going to make five substitutes at half time but I wanted to see what we had, and to be fair we got going a little bit. We made changes, it is a squad game and there were a couple who had a point to prove and fair play, they did.
"I can't wait to see those goals again on video. What was really positive is that when we had to go for it, we did.
"I know that's easy when you've had the punch on the nose, but we were brave and got bodies around Wyke.
"I'm really happy deep down to come out with a point after such a poor first hour."
Johnson said he would be analysing that first half performance closely and warned that there will be difficult conversations if he feels a poor attitude was at the root of any of the team's errors.
"You have to be consistent with it," he said.
"We've got to find out why. If it's technical , you work with the players, no problem.
"If it's tactical, then it's my fault.
"If it's an attitude [problem], then I'll be coming down on them like a tonne of bricks. Every individual action we'll look at. We'll speak to them, see if they're alright, ask why, and put some serious demands on them for the next game."