Sunderland boss reveals Bailey Wright, Tom Flanagan and Jake Vokins fitness latest ahead of Charlton test
Bailey Wright could make his Sunderland return next week after rejoining first-team training on Friday.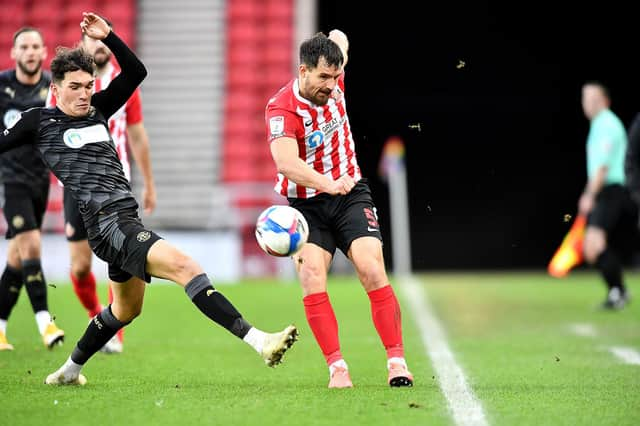 Bailey Wright is closing in on a Sunderland return
Wright has been absent since the Papa John's Trophy semi-final win over Lincoln City with a calf problem, but looks set to bolster Lee Johnson's options in the near future.
The Black Cats' head coach says he won't take any risks with the experienced defender, but is confident that he will soon be able to make a full return.
"We sat down with Bailey three or four days ago and worked through a series of alternative plans," he said.
"The good thing is that his injury has healed.
"We're not going to be putting him out with a potential for him not to get through the game.
"He's in a really good place. But obviously he's lost a lot of training time and a lot of match time. Now as a centre-half there's a bit of mitigation there, you maybe don't quite need the minutes in the tank that a forward or central midfielder would. Bailey's an experienced player, too.
"He's had some training time with the U23s because of our schedule and he's trained with us today.
"He won't be in the squad tomorrow but he could be if suddenly we really needed him.
"The aim is to perhaps look at Monday to get him some minutes in the U23 game, but that will depend on our needs for the Tuesday game at Wigan.
"He's in a good place, you always want Bailey Wright back for his character first and foremost, he's as good as it gets as a human being.
"He's also a very good player and a leader for us."
Tom Flanagan is continuing his recovery from a foot injury, which in turn led to muscle problems in his calf and hamstring.
Johnson says he won't rush the 29-year-old back, but believes the defender is ready to play through the bain barrier if required.
"There's a programme set and the most important thing is the player is able to influence that," Johnson said.
"Flanno's focus is positive in terms of wanting to be successful for Sunderland and quickly, so he's willing to play through an element of pain as long as it's not detrimental to his performance."
Johnson also offered an update on Southampton loanee Jake Vokins, who is set to undergo a second ECG scan next week.
Vokins is in good health after recently testing positive for COVID-19, but concerns over the results of his initial test have left both clubs proceeding with caution.
The Sunderland head coach is confident that the 21-year-old will be back in action soon.
"Jake is another one who's not too far off," Johnson said.
"He feels absolutely fine, so it's been a frustrating one for us and for Jake himself.
"Understandably, though, when you have that sort of murmur it has to be considered. He's got a stress test on Tuesday – basically an ECG and a treadmill.
"I would say it's a couple of weeks before we can get him back in, but he's the most frustrated man in living history to not be able to play. He's keen and I think he loves it here – we've enjoyed having him, and hopefully we can get him back as soon as we can."