Sunderland boss reveals dressing room message to young side after Millwall draw
Tony Mowbray says he told his young side to take the positives after they took a hard-earned point back to Wearside on Saturday.
Published 5th Feb 2023, 09:49 GMT

- 2 min read
The Black Cats were well short of their fluent best amid an intense atmosphere at The Den, with a sell-out crowd producing the club's biggest attendance since 1995.
Mowbray said it was a new experience for many of his players and said they should take satisfaction from having stood up to the challenge.
"We weren't allowed for long, long spells to play how we like to play the game," he reflected.
"That's huge credit to them and their intensity, and the environment they created from the terraces.
"It's a unique place and they make it very hard. We've got an extraordinary young team out there and I thought they stood up to it. "They deserve a lot of credit that they didn't succumb to the pressures of the game and the atmosphere.
"There were so many stoppages in the first half, it seemed as if every five seconds there was a foul. It was difficult for us and we're a bit frustrated that we didn't get our game going, but we have to respect the opposition and what they do.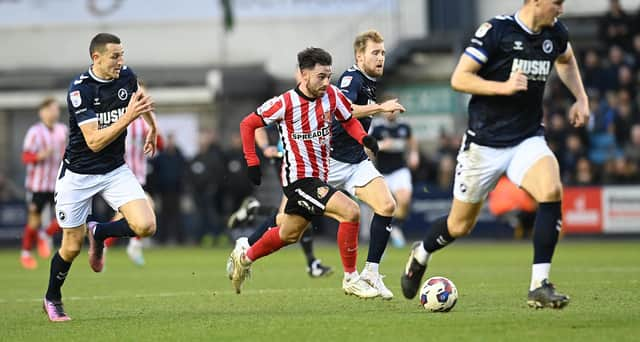 "Some of our players will never have experienced anything like that and it's great for their development, which is what we're trying to do as a club. Edouard told me he didn't come across much of that in Ligue 1!
"It was a real welcome to English football - you are allowed to tackle and fight and be aggressive. I've told them to take the positives even if there's a bit of frustration that we couldn't get our rhythm going. I enjoy bringing teams here, I'm from an era when every game was like that.
"It's gone away from that a little bit, we're all playing 4-3-3 with a pivot and two eights etc. That was a good learning experience for all of them and we'll take the positive that we're not leaving with our tails between our legs because we've been beaten by a team who wanted it more. We stood up to it.
"We've shown different qualities and we're on a half-decent run."
Sunderland handed a full debut to Leeds United youngster Joe Gelhardt for the game but Mowbray said it wasn't a game to judge any individual performances - saying he is looking forward to seeing his team's usual fluidity back in the games ahead.
"It's difficult, the way the game went we didn't have the control that we normally have because of the way they play," Mowbray said.
"It seemed to be a foul every five seconds so we didn't have enough control, the game kept stopping and starting.
"It'll be interesting to know how many fouls there were in that football match.
"So there was no fluency and we couldn't get our game going. It's a bit unfair to judge anybody because we didn't have enough control."