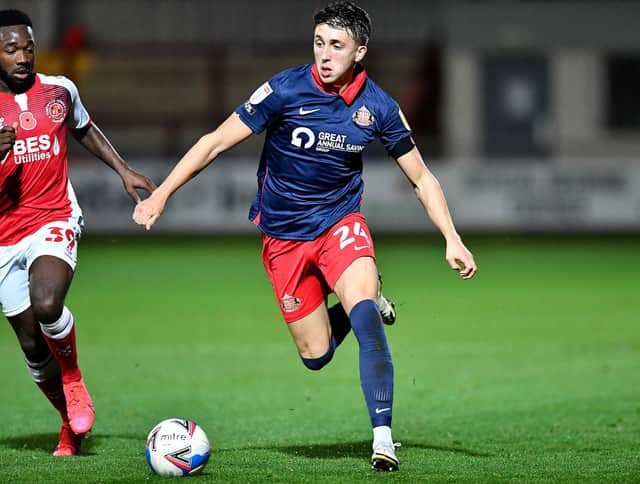 Sunderland youngster Dan Neil
The Sunderland head coach has been weighing up the dilemma in recent weeks, conscious of the importance in making the right decision when it comes to one of the brightest talents in the club's academy.
For one, the Black Cats are still unsure of the severity of an ankle injury Neil picked up in the 2-0 win over Port Vale in the Papa John's Trophy.
Secondly, Johnson is eager to ensure the club can recall Neil if needed between now and the end of the season.
Inserting a 28-day recall into the loan makes a move to League Two unlikely.
Carlisle United and Forest Green Rovers are two of the clubs at the level interested, and Johnson is unsure whether stepping down to the National League is in Neil's best interests.
He also believes there is some merit in keeping a close eye on Neil's progression as he implements his philosophy at the club.
In one aspect, though, Johnson could not be clearer.
Neil's enterprising cameo in that Port Vale win underlined his talent, and Johnson believes he can be a big part of his long-term plans for the club.
Johnson says he sees a similarity in Neil and Josh Brownhill, who he brought to Bristol City as a 21-year-old.
Brownhill went on to make over a 150 appearances in all competitions for the Robins, before being sold to Premier League side Burnley in what was an eight-figure deal.
"The starting point is that we like Dan as a player," Johnson said.
"I see loads of comparisons between Dan and Josh Brownhill. I had Josh from a similar age and we worked really hard with his good attitude to develop him. He's now in the Premier League.
"It's always a difficult balance with the younger players who you think have a future.
"You know that they need the hard experience to go through what they need to, in order to cope with a club at this level. But at the same time, you sometimes think they're better kept in the building because they're learning.
"Even when they're travelling to games and they're not involved, they're learning, even if they think they aren't because they want to play.
"It enables you to keep a closer eye on them so that when they step in, they have a better understanding of your philosophies and they can step in comfortably," he added.
"The competition is strong in that area of the pitch, though, and there's a number of players who we could move into that position as well.
"I see him as six or an eight, which means he can do a bit of both. He's got good vision and nice agility.
"He's actually got quite a bad knock from the Port Vale game. We're hoping that dies down but given the fact we're still in the cup, at the moment I'm not fully comfortable in loaning him out to be honest."
If fit, Neil is likely to feature in the quarter-finals of the Papa John's Trophy.
The draw will be made on the EFL on Quest highlights show this Saturday night, with the games to be played in the week beginning February 1st.