South Shields' Graham Fenton reveals coronavirus promotion fears with league set to make postponement decision
South Shields' boss Graham Fenton admits it's a very real 'fear' the Mariners will see their National League North promotion hopes go up in smoke due to the coronavirus outbreak.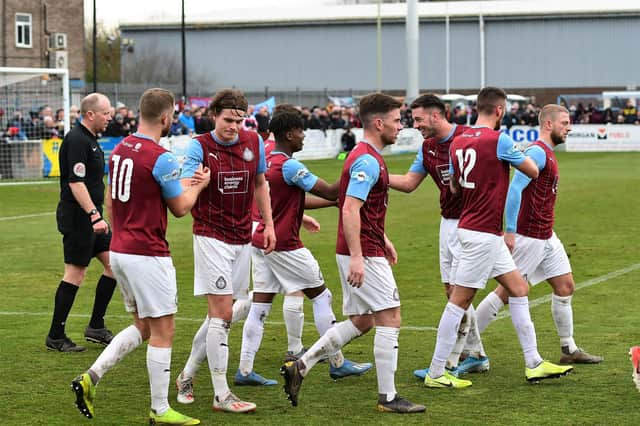 South Shields celebrate scoring their fifth goal of an enthralling encounter at Mariners Park on Saturday.
Having narrowly missed out on promotion via the play-offs last season, Fenton & joint manager Lee Picton's side have got their act together this - and with just nine games to go, their lead seems unassailable.
But, a meeting of league officials today could well see the league suspended due to COVID-19.
And while Fenton admits he's fearful of what could happen, he's not of a mind to 'whinge and moan' about it.
"Football will take a hit, it'll take a financial hit, but what they will do with leagues, we will wait and see," he said.
"It's about making sure people are alright and trying to put a strategy in place so we don't get as many ill, as well as have the infrastructure to deal with those who do get ill.
"We'll just go off what we are told to do. We'll be preparing for Tuesday's game (v Morpeth).
"We will wait and see if it's on, but we'll prepare as if it is. We can't whinge and moan about it.
"We have the all-clear from our league, obviously some leagues have gone different, but our league has said it's ok for us to go ahead."
On the prospect of the season being cut short, Fenton continued: "It's a worry.
"If you go to the other end of the spectrum and look at Liverpool, who are far further ahead than we are.
"They are in the same situation, so we just get on with it and whatever will be, will be.
"I saw Neil Lennon's interview yesterday, and he was talking about if it has to cease now, it's a case that it has to go on points per game because we are so far into the season.
"Obviously we would be down that same line and I am sure that Liverpool would be as well.
"But you then have other teams that have a different perspective, whether it's relegation or fighting for a play-off spot.
"The leagues and the FA have to make their decisions based on what they think it right and we have to deal with whatever that is."
The Northern Premier League, and it's members, took a hammering on social media in light of the decision to play on.
Fenton says he does not envy the decision-makers having to give games the green light.
"I can understand why they are doing it, but we would have understood if they'd called it off," said Fenton.
"It's a difficult situation and I don't envy the government, the leagues and the FA having to make decisions.
"It's going to be a few months of disruption. We have to deal with it as best we can."