The cafe doing dozens of deliveries a day to help elderly and vulnerable people during the lockdown
A Cleadon cafe is doing up to 40 free deliveries a day to help the elderly and vulnerable in the community during lockdown.
Saturday, 28th March 2020, 5:00 am
Updated
Sunday, 29th March 2020, 2:59 pm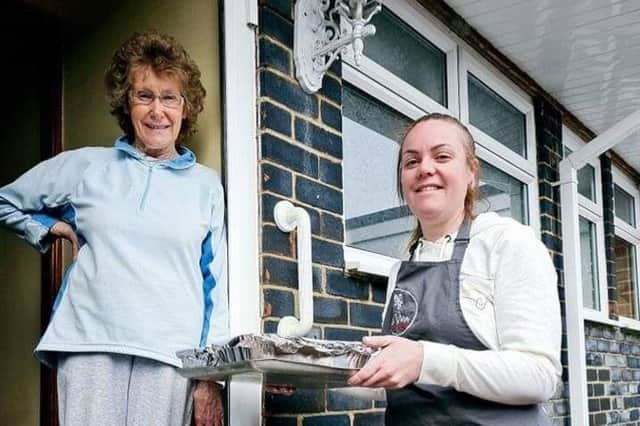 Danielle McCann, right, from La Vina in Cleadon Village during lockdown
While their cafe La Vina, in Cleadon Village, is closed for sit-in custom during the Covid-19 crisis, husband and wife team Sean and Danielle McCann are delivering between 30 and 40 meals a day to those in need.
The free meals are reliant upon the stock available to the couple from their supplier and on supermarket trips, so they've had to limit the deliveries to Mondays, Wednesdays and Fridays, but Danielle says it's great to see the impact it's having in the community.
The businesswoman said: "We opened La Vina two years ago and since day one we've had massive support from our local community and we are doing this to return that community support."
Danielle McCann delivers the meals with her husband Sean
She added: "We have people within the area; brave and courageous people who are working incredibly hard, putting their own lives on the line to protect our family members.
"Nurses, doctors, police officers, health care workers. They are all out there fighting for us and this is our pledge to them: if you have an elderly family member that you can't care for because you're caring for our community, get in touch and we will provide a hot meal for them.
"We all need to come together and support each other through this and we will all come out the other end standing tall and La Vina will be there with everyone."
Deliveries take place on the designated days from 11am to 2pm and can be booked by ringing the cafe on 0191 536 8624 before 10.30am on the day of delivery.
A number of businesses have utilised their resources to help their communities in these difficult times.
In East Boldon, Blacks Corners deli has launched a community outreach programme to help those who can't leave the house for shopping during lockdown.
And elsewhere in South Tyneside, curry house Zeera is taking weekly banquets to South Tyneside hospital to help feed NHS workers at the frontline of the healthcare crisis.