Chance to scale Northumberland castle's walls in unique charity event
Thrill-seekers have the chance to play at being medieval swashbuckling heroes in a unique charity event at a Northumberland castle.
Monday, 31st May 2021, 10:04 am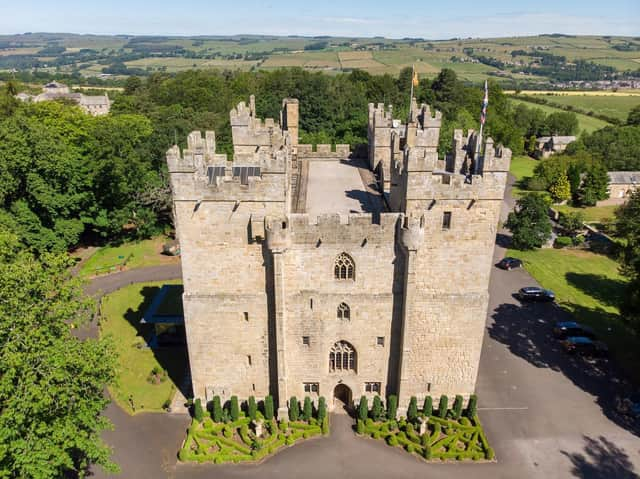 Langley Castle is offering fundraisers the chance to scale its medieval walls.
Langley Castle Hotel, near Haydon Bridge, Northumberland is giving some 220 people the chance to scale its walls on June 5-6, to raise money for Maggie's cancer care in Newcastle.
The super-resilient castle, dating back to 1350, has withstood all that the centuries, fire and the treason of two of its owners have thrown at it.
But it will now be allowing more remarkable people to do remarkable things at a charity abseil event, offering the chance to descend from the castle's amazing battlements, which offer views over Hadrian's Wall.
The opportunity in June follows the success of an abseil event in September 2020.
Those taking part then included one fundraiser who had undergone chemotherapy the day before, one who just weeks earlier had been in a coma, and a wheelchair user who was not going to let anything stop them.
Participants aged from 10 to 76 took part in the event, organised by Wild About Adventure, and the company is looking forward to welcoming back others in June.
"This is more than just an abseil," says Paul Mordue, of Wild About Adventure.
"This abseil comes with a spine-tingling element attached and a little bit of escapism.
"When you take to these ropes, you are not just abseiling but becoming a medieval Robin Hood, attaching yourself to walls that could tell you so much, if they could speak and reveal their history.
"The drop is extraordinary but so is the ambience. We can honestly say it is the best abseil we have ever arranged, which is why we plan to make it an annual event. The Langley Castle team are so super-helpful, that everything goes like clockwork. We can't wait to get back on those walls!"
Maggie's Hospice has special significance for Paul, as it cared for the wife of one of his best friends, before her loss to cancer.
It requires £,2500 a day to run the centre, so Paul said events such as the Langley Castle abseil really make a massive difference.
Langley Castle's executive general manager, Margaret Livingstone-Evans, said:
"This abseil event was very humbling for my whole team last year, as we saw determined and courageous people battling their own health issues, to do something for others.
"We'd never had this sort of event before, so were a little nervous, but it is run superbly, so there need be no concerns over safety or social distancing. It could be the ideal opportunity for those with pent-up energy to do something amazing and help charity and we are sure to discover more heroes."
::You can sign up for the abseil at https://bit.ly/3eUwp96
Entry into the event costs £36.50 for registration, with participants then able to organise fundraising.
Those wishing to take part, and their families and friends, can also book afternoon tea or other refreshments, if they wish to make a day out of it.