Building work starts on new £2.7 million veterinary referral centre set to create up to 70 jobs
Building works have started for a new £2.7 million veterinary referral centre in South Tyneside expected to create up to 70 jobs over the next two years.
Published 19th May 2022, 11:11 BST

- 2 min read
Bridge Referrals Ltd will provide veterinary services for small animals in the North East from its new hub at Boldon Business Park, in Boldon Colliery, as work has begun on the new centre.
The referral centre will have expertise across a range of disciplines and referrals to the site are expected to include orthopaedics, soft tissue surgery, neurosurgery, ophthalmology, oncology, internal medicine and diagnostic imaging.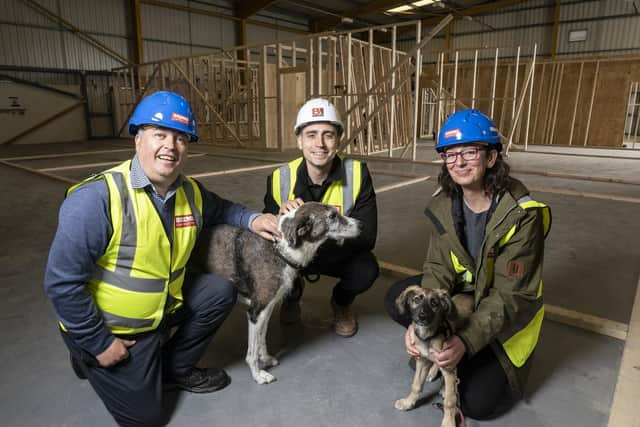 It is expected the centre will open by November, covering not just South Tyneside and surrounding areas, but also the wider North East, including Northumberland and Teesside, and even further afield, such as the Scottish Borders and North Yorkshire.Up to 70 jobs ranging from highly specialised veterinary roles to nursing apprenticeships for school leavers will be created within the first two years of operation.
Sarah Harrison, Director at Bridge Referrals said: "It took us several months to find the perfect location for Bridge Referrals and accessibility was a key factor in making this decision. We saw there was scope for a new veterinary referral centre in South Tyneside as a central location in the North East, with excellent transport links including direct access to the A19, as well as bespoke space to create a hub.
"South Tyneside Council were extremely open and excited about our concept and offering, supporting our journey every step of the way, from initial plans to planning permission. This is a complex project, with several stakeholders and we've received support from a range of organisations. We want to say special thanks to those who have helped us along the way.
"We have ambitious plans for the veterinary centre, but ultimately we just want to bring the best possible service and experience for our clients and their animals across the North East and our new home at Boldon Business Park will allow us to do just that."
"With ambitious plans, and the potential to create scores of high-quality jobs, this business will be a real asset to South Tyneside and I look forward to watching it grow and evolve."
Bridge Referrals offers advanced veterinary services from experienced referral clinicians to primary care veterinary practices in the North of England and Southern Scotland. Bridge Referrals is owned by families local to the area.