'The right person for the job' Nexus appoint new manager for Shields Ferry
Mandy Francis has over 28 years of experience working for Tyne and Wear Metro.
Published 12th Feb 2023, 09:00 BST

- 2 min read
It has been announced that Nexus have appointed a manager to oversee the day to day running of the iconic Shields Ferry service.
The newly created role of Customer Services Operations Manager has been given to Mandy Francis, who has 28 years of public customer relations experience working for Tyne and Wear Metro.
In her role, Mandy, who is from North Tyneside, will manage the ferry as well as local bus interchanges. She will be based from the Ferry's operational quarters in South Shields.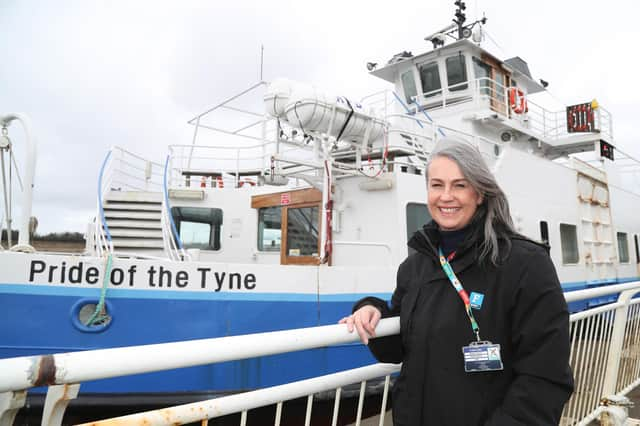 Speaking of her appointment as manager, Mandy said: "It's a huge honour for me to become the new manager of the Shields Ferry.
"This newly created role will give me the chance to manage the Ferry, as well as local transport interchanges, in what is a brilliant new challenge for me after almost three decades working for Metro.
"The Ferry is an iconic and historic feature of life on the River Tyne, providing an essential link between the communities of North and South Shields. I really can't wait to get started.
"We have a brilliant crew and I'm really looking forward to working with them to steer the Ferry service into the future, continuing our strong patronage recovery in the post Covid-19 era.
"The Ferry has always played a big role in the community and I am hoping to continue that during my time here."
Nexus, the public body which owns and operates the Shields Ferry are delighted to have Mandy accept the role.
Head of customer services at Nexus, John Souter said: "She brings an enormous amount of customer service experience with her and was absolutely the right person for the job.
"What we have created is a new role with the dual responsibility of managing the Shields Ferry as well as the local transport interchanges which Nexus manages.
"The Ferry is an iconic local transport link, which has been there for hundreds of years, and I have no doubt she is going to be a huge asset for us both now and in the future."