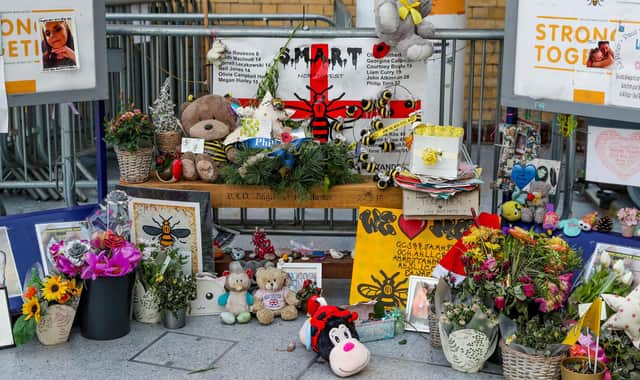 A memorial to the victims of the Manchester Arena bombing at Victoria Station in Manchester.
Five people from the North East were among those who died in the 2017 attack.
They were Chloe Rutherford, 17, and boyfriend Liam Curry, 19, who were from South Shields, Hartlepool-born Jane Tweddle, 51 and Philip Tron, 32, and his partner's daughter Courtney Boyle, 19, who were both from Gateshead.
Chloe Rutherford and Liam Rutherford were killed in the Manchester Arena bombing.
Sir John said the September date will be kept under review and work on the inquiry will continue in the meantime.
A hearing on April 7 to discuss an application by survivors of the attack to be designated core participants will go ahead by video link, but a hearing scheduled for May 6 will not take place.
In a ruling on the start date of the oral hearings, inquiry chairman Sir John Saunders said: "While I understand completely the logic of those who say that I should not attempt to identify a date now, experience suggests that the sooner you make everyone aware of the preferred date the more likely it is that people will work towards it.
"It is vital that we keep the impetus of our preparations going so that the inquiry can start as soon as it is safe and possible to do so.
Jane Tweddle died in the Manchester Arena bombings.
"For those reasons I have decided to fix a provisional date now. That means a date that will be kept unless the medical emergency continues or restrictions, including self-isolation and the prohibition on non-essential travel, are still in place which make it impossible to start.
"I shall keep the start date constantly under review and will invite further submissions if I consider that would be of assistance."
Salman Abedi, , died from his bomb attack while his brother, Hashem, , is in custody awaiting sentence after he was convicted earlier this month of the murders and attempted murders following a seven-week trial.